Is your B2M website beneficial to it's users?
What is a business-to-many business? A business-to-many (B2M) is a company that sells both to consumers and businesses. They cannot be classified as a business-to-consumer (B2C) or business-to-business (B2B) because they sell both to the individual consumers as well as bulk orders to help businesses serve others.
The websites of B2M company has a unique challenge; the site has to speak to two different types of customers with very different requirements, considerations, and purchase cycles.
A B2M company's websites serve many purposes. The site serves both business and consumer buyers, and the items and ways they purchase may be very different. It's easy to get bogged down in making sure your website is everything to everyone, forgetting the fundamental purpose of your site along the way.
There are about 1.73 billion websites in the world. Some are expansive and in-depth sites, while others are simple, one-page affairs. No matter what type of site you have, though, it's vital that the user experience (UX) is tailored to your target audience.
Figuring out how well a B2M website serves its particular audience will require attention to detail. Many factors add up to great a great (or weak) user experience.
One way to clean up your site and improve it is to go through each element one by one and find places to make changes. Even the most well-designed website has room for improvement.
---
PROMOTION
---
B2M Website Tips:
Find Common Ground
Ask: what values do our consumer and business clients share?
Your first step in improving the usability of your site is figuring out what common ground your business and consumer buyers share.
What does your company offer to both types of buyers in a way that's better than your competitors? Once you get to the core of what you do and how it benefits all your customers, it'll be easy to find the shared value.
Spectrum does an excellent job of determining what all their customers want, which is a fast and inexpensive internet.
They highlight that they have the fastest starting speeds in the industry along with transparency about the price, and they make sure readers know that the offer is good for twelve months. They then split the site into options for different types of customers landing on their pages, such as businesses and people looking for home phones.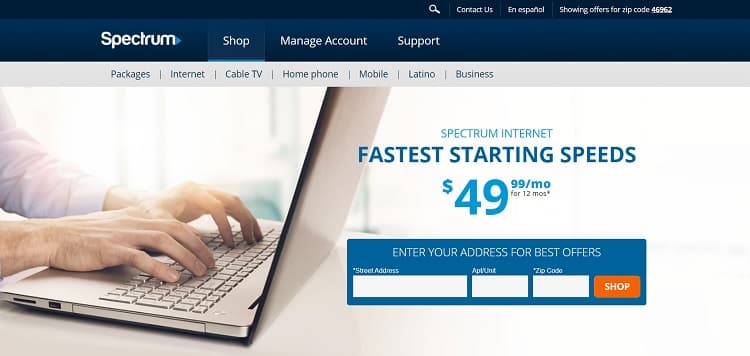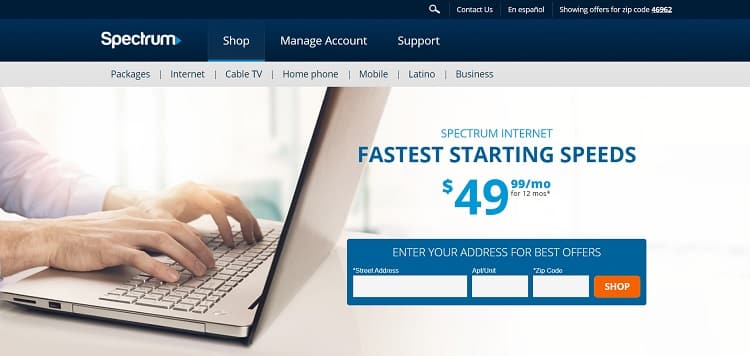 Having your customers self-sort is an effective way of increasing conversion rates, which is a common struggle of B2M companies. The content is shown after the sorting speaks to the concerns and considerations they have.
Create Separate Sections
Target pages to one type of buyer or the other, then prompt the other type to click to the page for them.
While you do want to find common ground, the needs of your different types of customers vary widely. A page that tries to speak to too many kinds of people ends up connecting with no one.
One way of addressing the different needs is with separate pages.
So, if your consumers come to you for solutions A and B and your business clients for solutions C and D, you would have pages for A, B, C, and D within your navigation structure.
If a business client accidentally lands on a page geared toward consumers, they can easily navigate to the information they need. East to spot prompts on the page can help a customer get back to the page that is most helpful to them.
For example, a product page for a VOIP phone system meant for an office can have a small bar that says, "Looking for home phone solutions? Click here."
---
PROMOTION
---
Revamp Calls-To-Action (CTAs)
Consider which audience you are talking to so you can write effective CTAs.
Your calls-to-action (CTAs) help guide your site visitors through the buyer's journey. Without strong CTAs, people may not know what step to take next.
Your CTAs have to serve more than one type of client, even if you create a "Learn More" approach to funnel them through the process in the direction they should go. Make sure your CTAs are labeled clearly and make sense for your target audience.
Whitby Garage Doors does an excellent job with their CTAs.
Please take note of the way they use an arrow to indicate that the user can gain more information and a relevant photo. They break their CTAs into residential garage door offerings, commercial overhead doors, openers and repair services.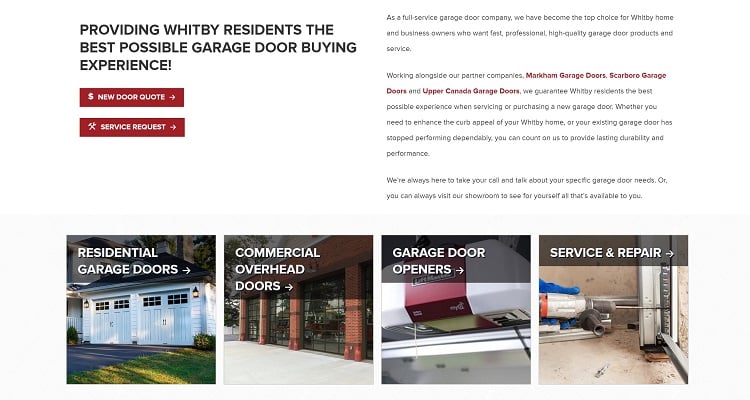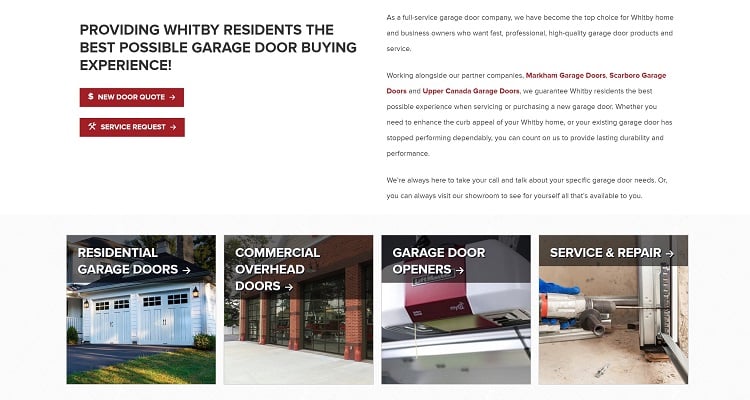 Speed up Your Site
A slow loading page frustrates everyone… and Google.
Unbounce's 2019 Page Speed Report surveyed 750 consumers and 395 marketers about page speed. About 70% of the consumers stated that a slow page speed makes them less likely to buy from an e-commerce store.
How fast or slow your website loads has a massive impact on the overall experience the user has on your site. Page loading speed has and continues to be also a ranking factor for Google since 2010. Google does not send traffic to slow websites because searchers get frustrated and confused.
People are busy. They don't have time to wait several minutes for your site to load so that they can move to the next page and wait for it to load too. Run speed reports, optimize images, limit scripts, and do any small thing you can to speed up your site.
Free page speed test tools like Google Page Speed Insights and Pingdom Tools can give you a sense of the speed of your company's website. If you are technically inclined, they have helpful suggestions for ways to improve your page speed.
---
PROMOTION
---
Tweak Your Navigation Bar
Navigation bars with a lot of links are fine, if they are well organized.
The navigation bar is what users look to when they're orienting themselves to your website.
We've already talked about offering both consumer and business options in your navbar, but you can do a few other things to make the bar usable to different types of audiences.
As a business that serves both B2B and B2C customers, you likely have a lot of content and information on your site. Your nav bar should break down content into main categories and then use subcategories to refine further the direction users can go. You could also add a search feature for more detailed results.
Bulk Apothecary serves both individuals who want to order small quantities for hobby soap-making and people who create soaps and sell them to others. For this reason, they have similar products but different types of offers, depending on how much you'd like to buy. They utilize a mega menu to show the various subcategories when you hover over a topic.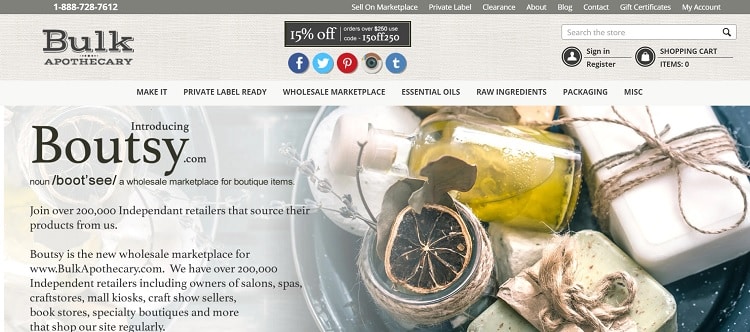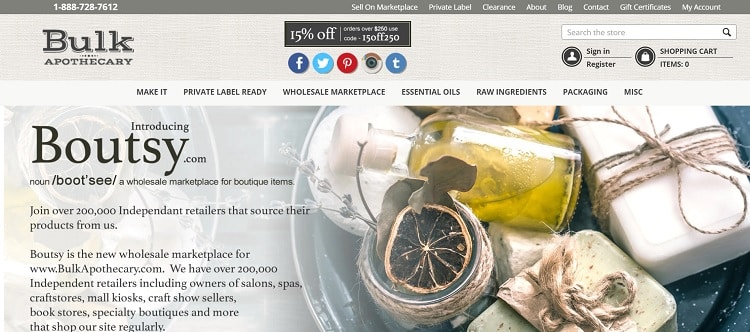 Having an extensive but well-organized menu can be helpful for all customers. No one wants to hunt around for the page that they need.
Study Patterns
Find data about what your users are actually doing on your site.
You can learn a lot about your customers by digging into the data, and you can better serve them by changing your website to accommodate their needs.
For example, your analytics might show that the majority of your visitors come from social media, so you'll want to include a feed from your social media and an easy way to navigate back.
Heat maps can offer insight into where users click and what they pay attention to when they land on your page. You can improve usability by cutting elements that aren't used or relevant to the purpose of your page.
If you are willing to put tracking code on your website, services like Hotjar and Heatmap can generate a visual of where the user's cursor spends the most time. The data they provide can tell you what visitors value on the page, which can inform design decisions.
If you use this option, make sure your privacy policy covers this type of monitoring.
---
PROMOTION
---
Offer Value
Your Unique Selling Proposition (USP) might be different for business buyers vs. consumer shoppers.
What is your brand's unique selling proposition (USP)?
Your UVP might be a bit different for your consumer versus business clients. Consumers and businesses have very different considerations. Your brand's unique value may be different depending on what type of buyer they are.
Look for similarities, but don't worry if you need to separate the two into categories and create multiple landing pages. What do you offer that your competitors don't or can't, and how can you highlight this advantage for both consumers and businesses?
---
PROMOTION
---
Conclusion. Test Everything
Once you've tweaked your site to meet the needs of different types of customers, spend time testing to make sure everything is working.
Going through your site yourself is the first line of defense. Broken links or forms that won't submit will make you look unprofessional at best. Click on every link and submit each form to make sure everything works the way it should.
There is no substitute for having people from both buying groups go around your site and then talk about their experience. No amount of data and analytics can match the insights and empathy for your customers that you gain from real conversations.
With a little effort, your site will be one of the most usable in your industry, and you'll attract customers from all walks of life.