Facebook Page Cover Best Practices
The do's and don't of designing a great Facebook cover for a business.
Executive Summary | Abstract | TL;DR
A Facebook page is an important and challenging channel to communicate with your fans and customers. It is powerful but risky, and few have learned to properly use it. An effective Facebook page cover design is relevant to its viewer.
Do Use Your Brand Colors
Do Use a Visually Interesting Photo
Do Speak Specifically to Your Fans

Do

Swap it Seasonally. Keep it Fresh!

Do

Profile Pic = Icon, Cover = Wordmark

Do

Use an Image To Get People Into the Mindset of Using Your Product

Do

Show a Locally Relevant Image

Don't

Use an Ambiguous Image

Don't

Use an Amateur Photo

Don't

Have the Same Art as Your Profile Pic

Don't

Have the Same Promo Image for Months

Don't

Do Nothing At All

Don't

Promote a Promotion. Link the Promotion To Your Product!

Don't

Use an Image That Gets Awkwardly Cropped
Keep your cover page fresh and relevant, and properly formatted. BMB offers a Photoshop template to help with the proper formatting.
5 minute read | 1200 words.
A Facebook Page is the only online property that a business would need if Facebook had their way. They have programmed it so that even a non-techy person can use powerful marketing tools like polls, videos, and chatbots. You can also sell directly from Facebook.
Facebook has 2.19 billion people who log in at least once a month; that is 68% of all the people who have access to the internet, worldwide. And the average Facebook user spends 50 minutes a day between Facebook, Messenger, and Instagram (all owned by Facebook.) Your customers are on Facebook.
So Facebook pages are powerful and visible. What is the catch?
The first downside to a Facebook page is that they will charge you for your message to reach your customers, regardless of whether they follow you or not. Optimistically, this is because users want to see pictures of weddings, videos of babies, and the meltdowns of their cousin Judy, and you need to pay to prioritize your brand over that content. Cynically, Facebook has positioned themselves as a middleman, and they want their cut.
The second downside is that brands generally do them very poorly. They are designed poorly, and the content is irrelevant to the fans. And we are going to try to help with that today.
We are going to look at some dos and don'ts and examine brands that are doing it right and wrong.
Facebook Page Cover:
Dos

and

Don'ts
Do:
Use Your Brand Colors
Hero: Beats by Dre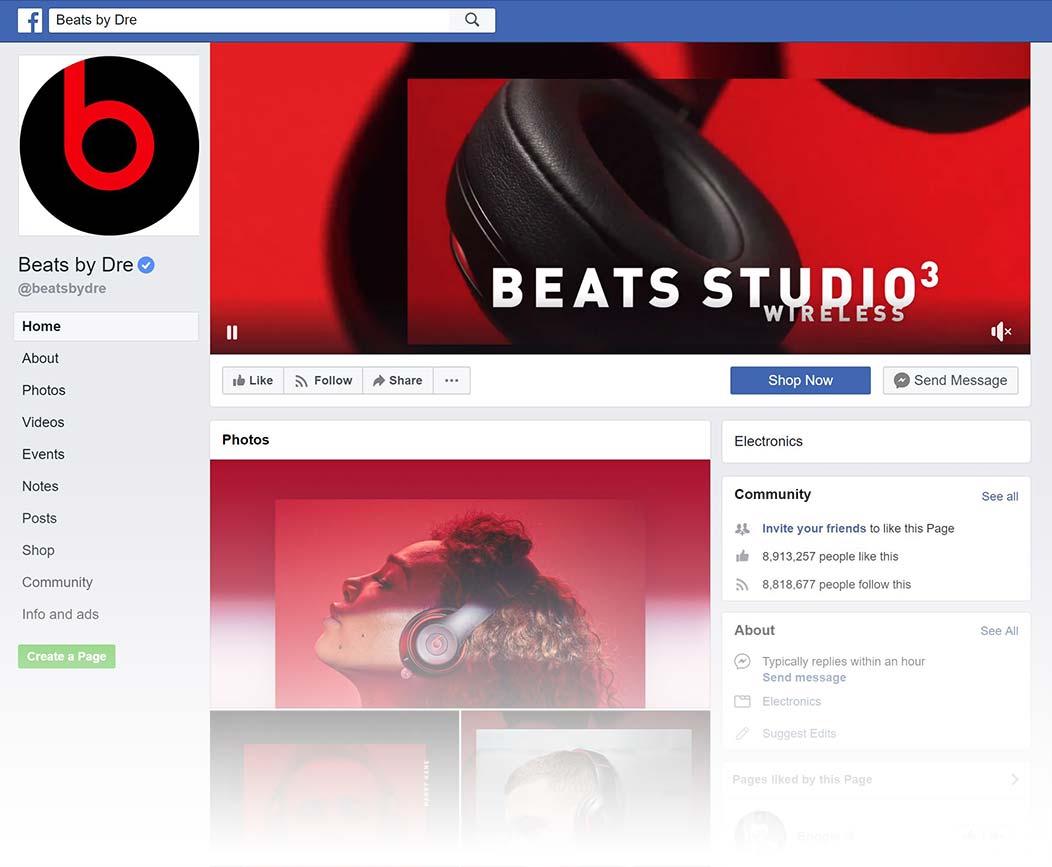 Beats by Dre has their brand colors in their Facebook profile pic, cover design and even shared photos. That is a great tactic make your brand instantly recognizable in and out of Facebook. The Beats by Dre Facebook page is actually the gold standard of how it should be done. Remember when we reviewed the history or Beats by Dre?
Don't:
Have an Ambiguous Image
Perp: Apple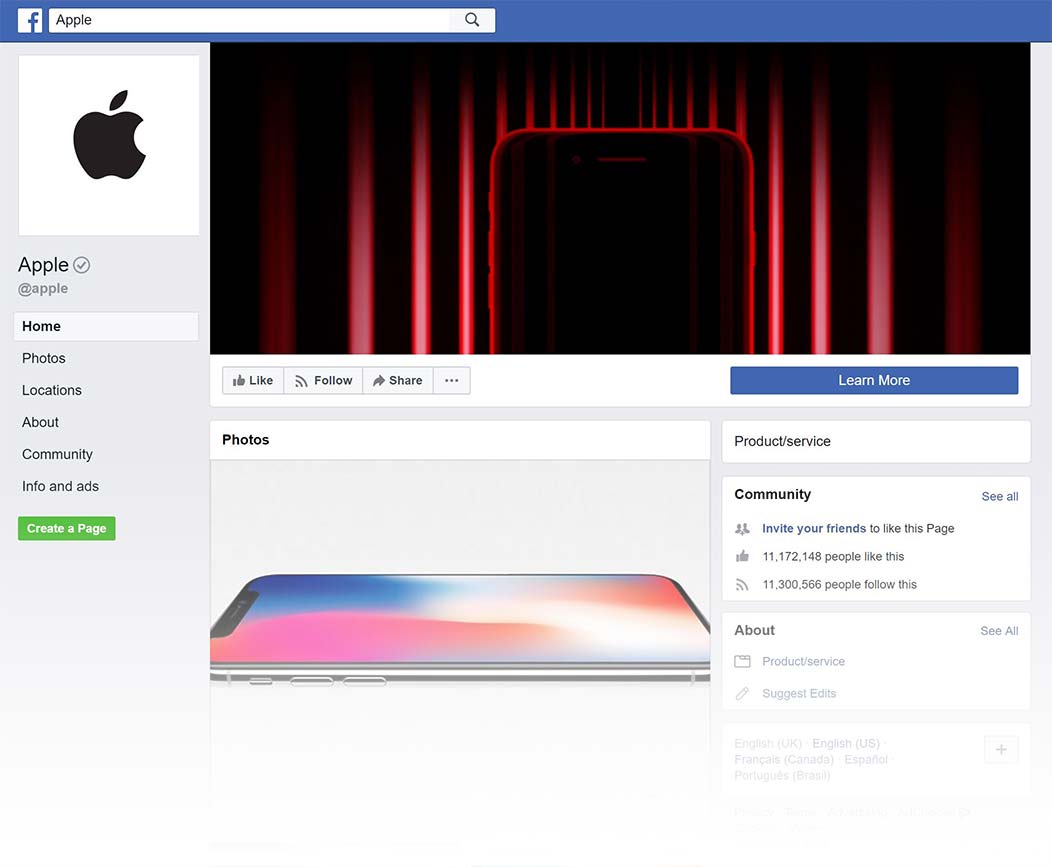 Apple is usually the best at marketing and communication, but their use of this image is perplexing. Is there something I am not privy to? Is the idea to intentionally make it ambiguous? Either way, it's a missed opportunity to connect.
Do:
Use a Visually Interesting Photo
Hero: Tesla Motors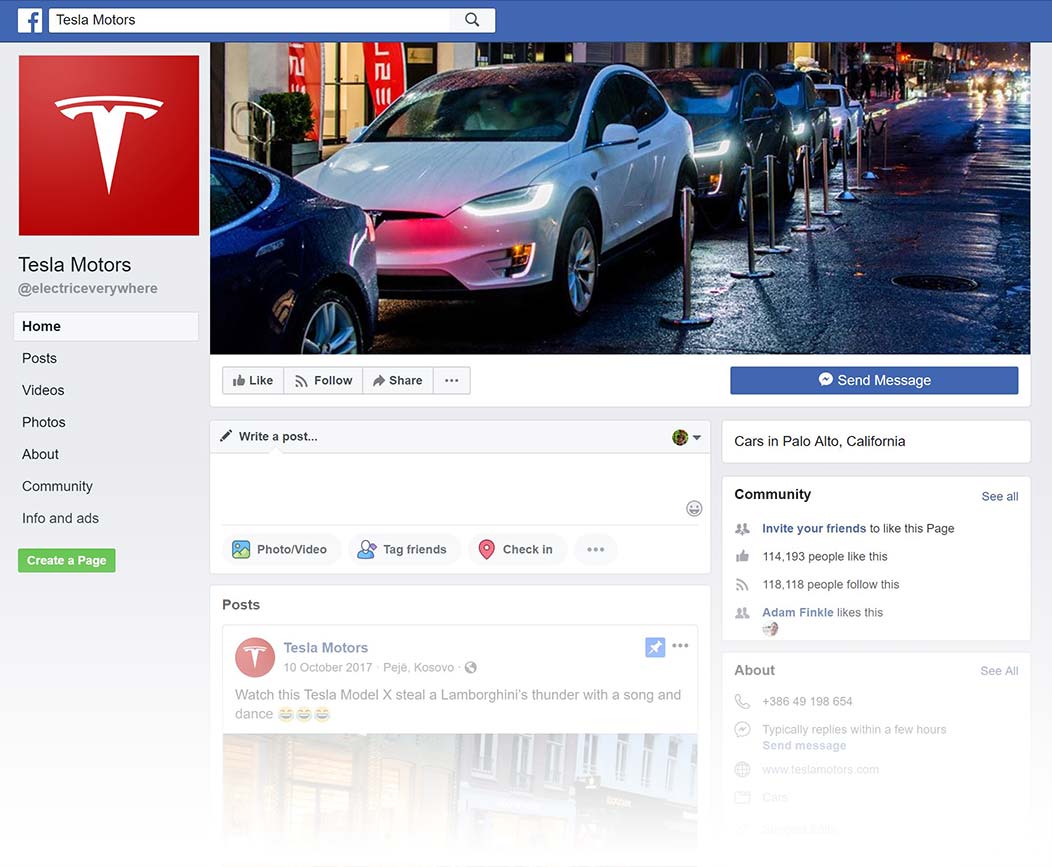 The photo that Tesla had on their Facebook page was well chosen. It was a feast for the eyes, well shot, and built up their brand associations with luxury and high design. It was clearly taken by a professional.
Don't:
Use an Amateur Photo
Perp: LL Bean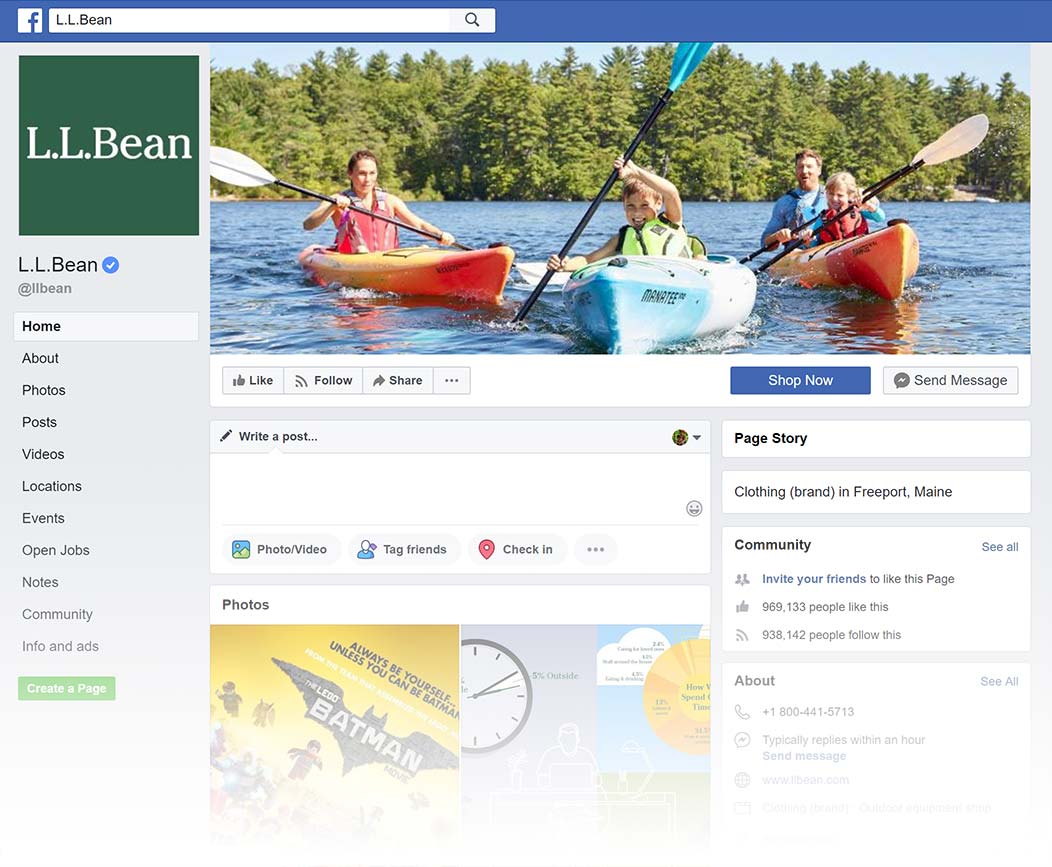 I understand what LL Bean is trying to do here: connect people to one of the activities, canoeing, that fits with their brand lifestyle. But this photo looks like it was shot by an individual on Facebook, not a hundred million dollar brand. The emotions there, but the photo is just not technically good. It is slightly overexposed, a little blurry, and the boy has a nice expression on his face, but the rest of the family look like their worried about tipping over.
Do:
Speak Specifically to Your Fans
Hero: Quiksilver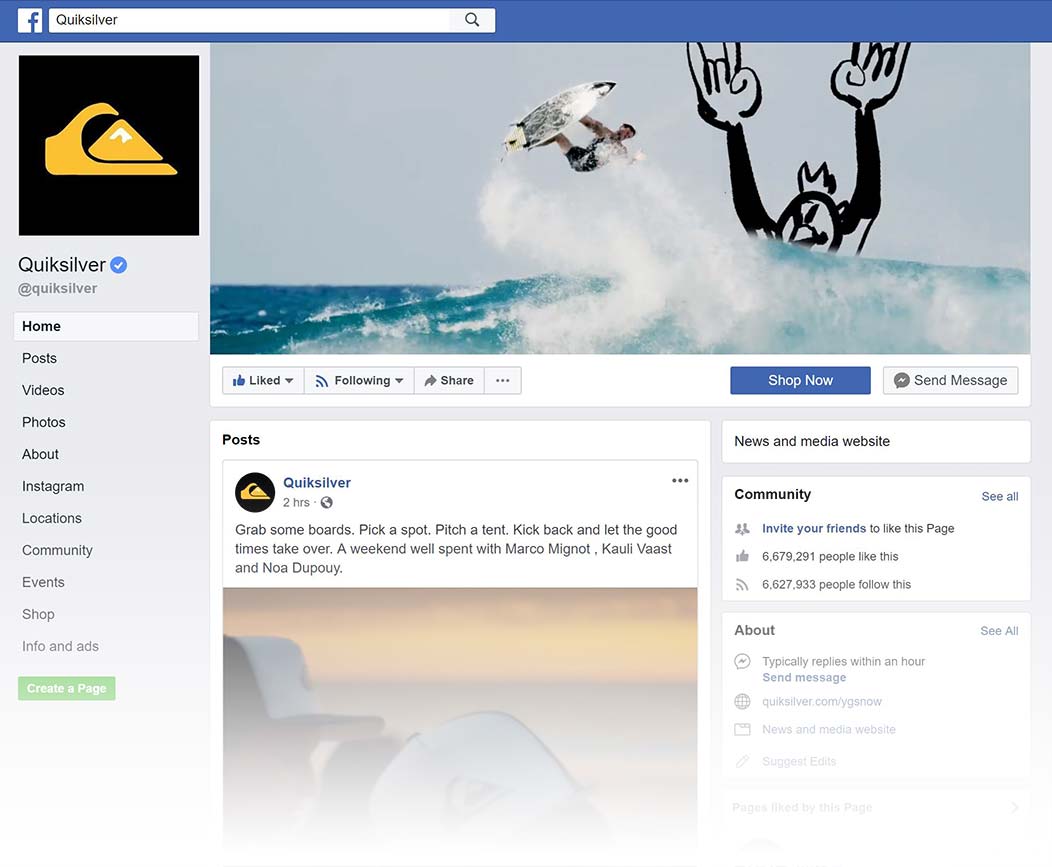 Quiksilver is using a video of a surfer with fun, raw cartoons to speak to fans of surf culture. They are not interested in using an image or video that has universal appeal. They know that is more value in an image with impact on their fans, then trying to make fans of everyone.
Don't:
Have the Same Art as Your Profile Pic
Perp: Taylor Swift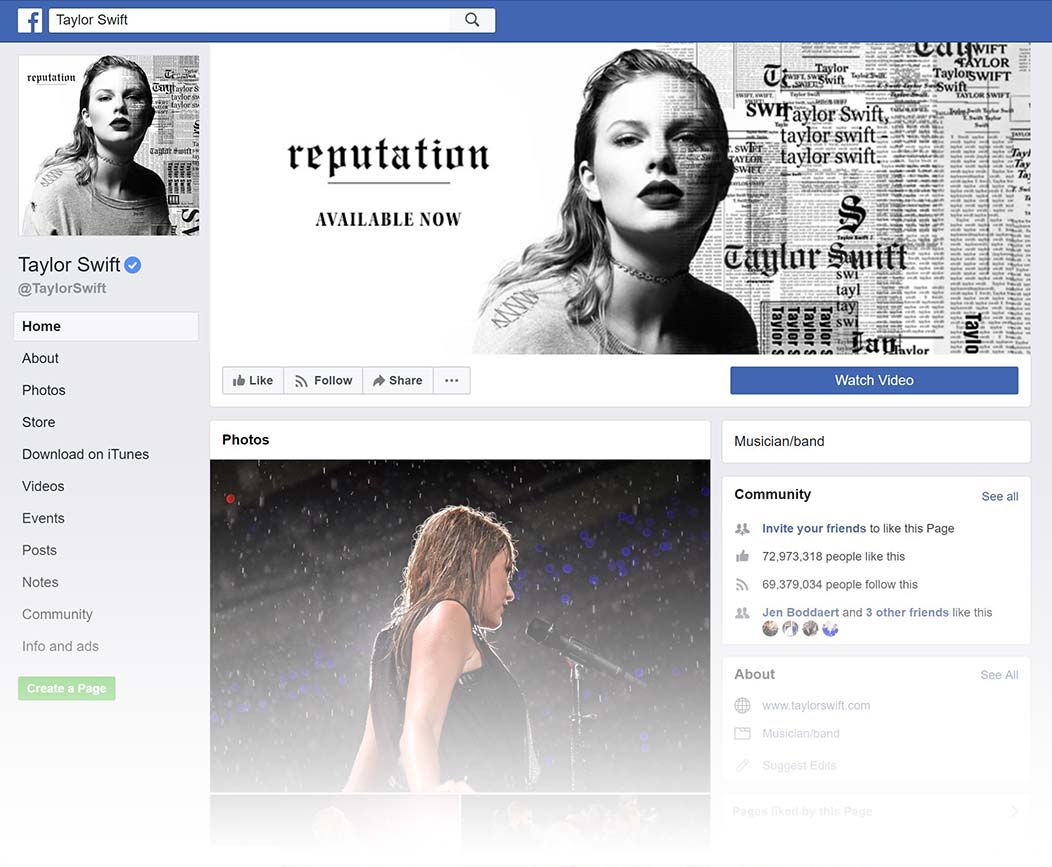 Taylor Swift is using her album art; that is probably a good idea because that is the image that her fans are connecting with right now. It would make a good profile pic or a cover photo, but not both. It just looks lazy and repetitive. She missed an opportunity to use the cover photo to send a second message.
Do:
Swap it Seasonally. Keep it Fresh!
Hero: Walmart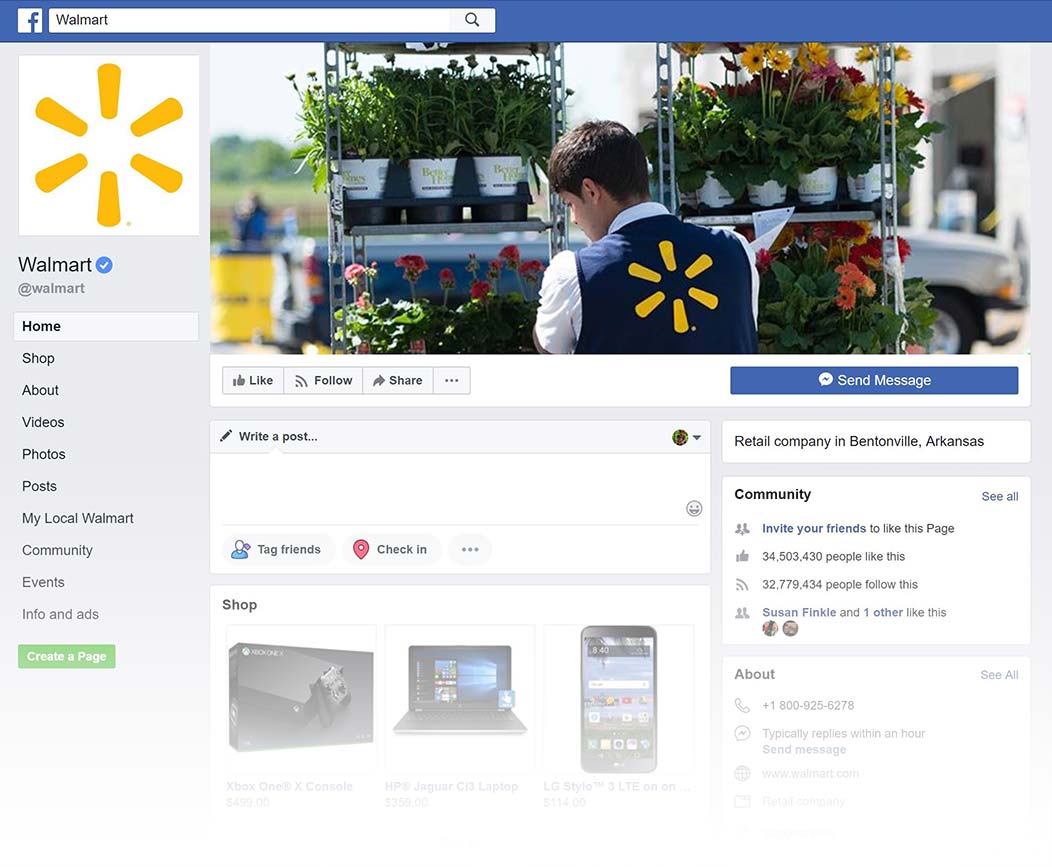 The theme of this article is that Facebook covers make an impact when they are relevant. One way of increasing the relevancy is to have the image relevant to the season. This can be the calendar seasons, like summer in the Walmart example shown above. Side benefit: swapping it four times a year is a good schedule. You can also like it to your product season, like construction season if you were designing for a contractor.
Don't:
Have the Same Promo Image for Months
Perp: Imagine Dragons
When you have the same cover image up for nearly a year, it just gets stale. It is a missed opportunity to stay relevant. If I were Imagine Dragons, I would use the cover photo to link it to their latest single. People will listen to "Whatever It Takes" and come to their Facebook page, so a reference to the song would be relevant and a nice greeting for them.
Do:
Profile Pic = Icon, Cover = Wordmark
Hero: Pepsi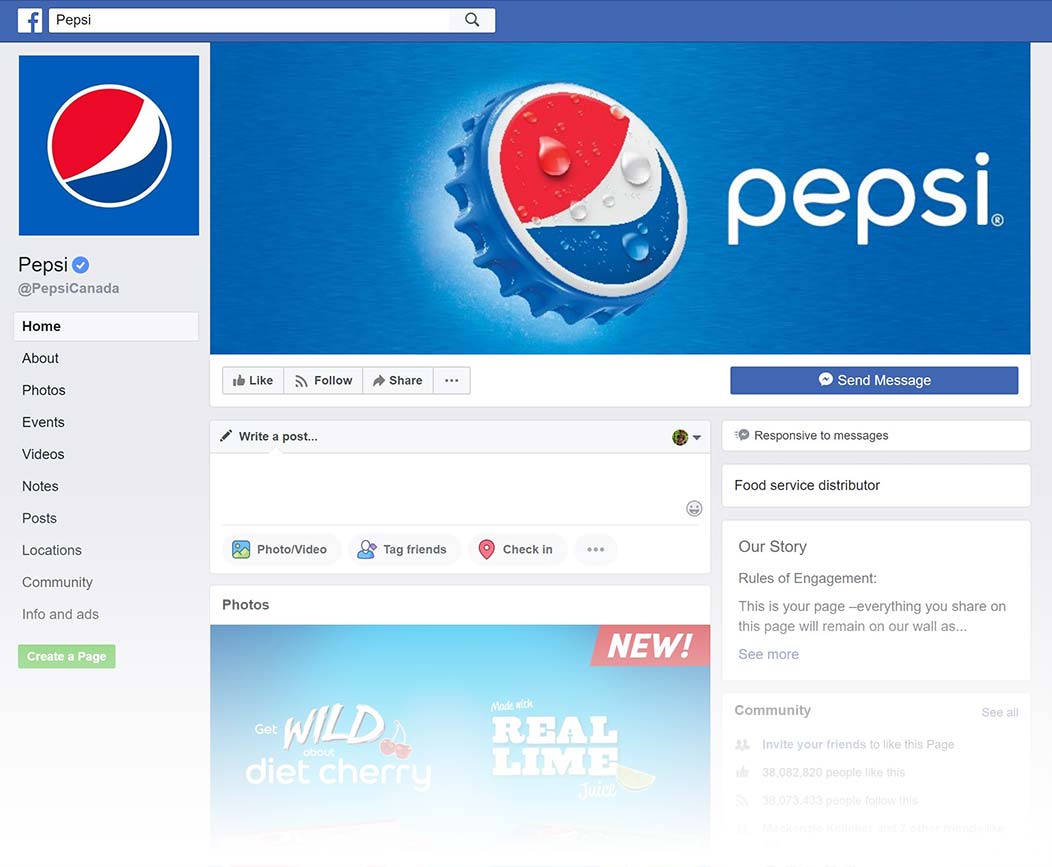 A profile picture is inherently small. We noted in our 2018 Logo Design Trends that brands were moving to more simple and iconic logos because complicated logos are getting lost when used in social media. So the profile pic should feature only an icon because the text will not be readable when it is scaled down. But there Facebook has provided an opportunity to show your entire logo, including the wordmark… the cover photo! It is your place for (relatively) big graphics.
Don't:
Do Nothing At All
Perp: Kim Kardashian West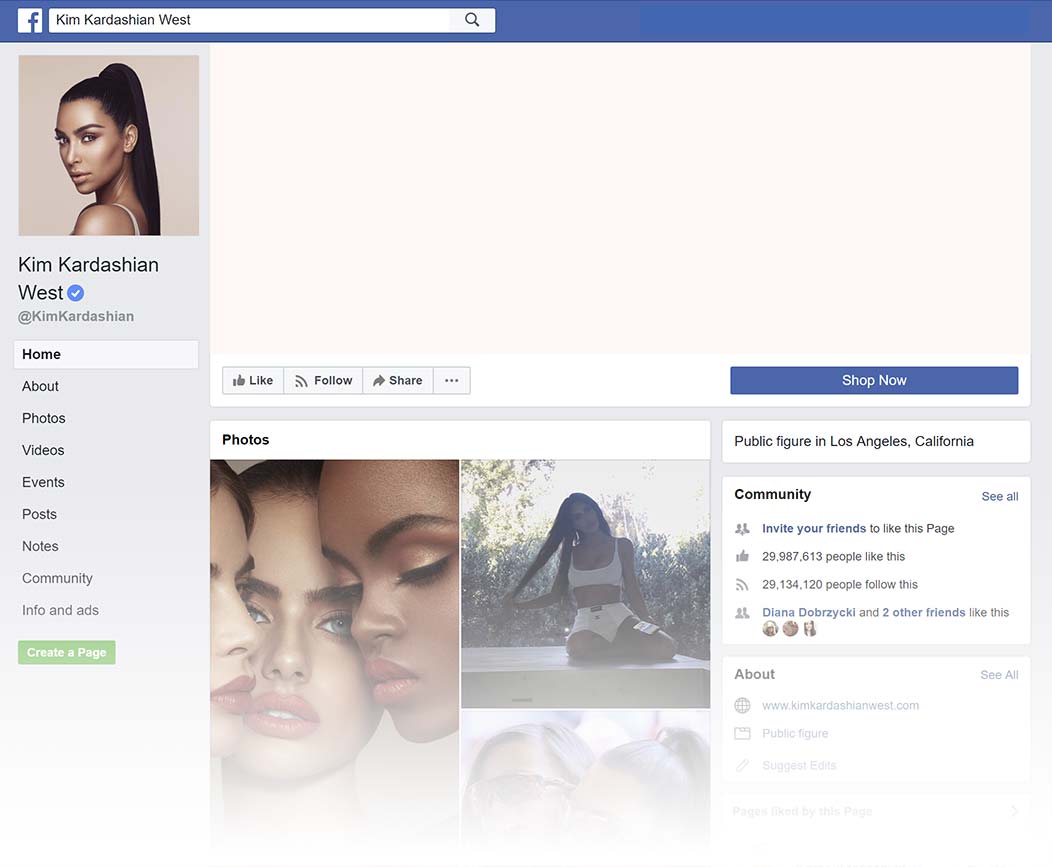 I thought the image on Kim Kardashian West's Facebook Page was a mistake. Was it cropped? Was it the default? No, I downloaded it, and it is just a skin color rectangle. The Facebook page cover is an opportunity to say something. Use it or lose it.
Do:
Use an Image To Get People Into the Mindset of Using Your Product
Hero: Whole Foods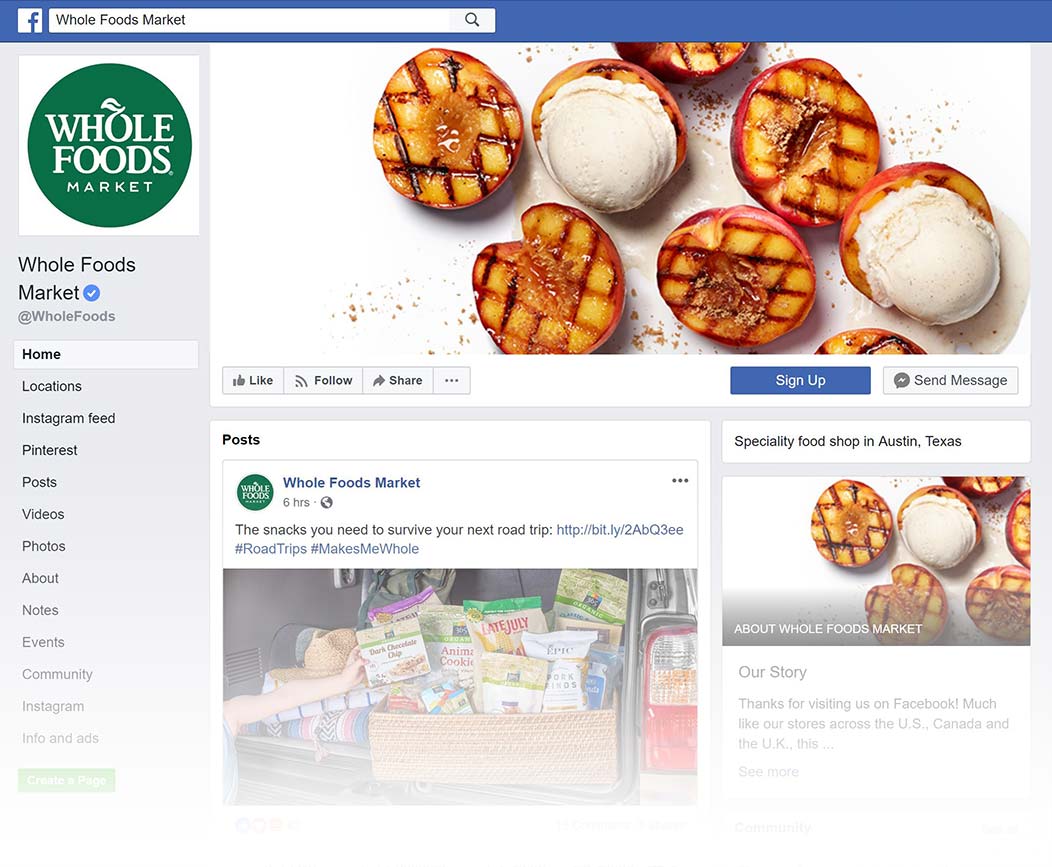 People who like your brand's Facebook page have signaled to you that they are regular purchasers of your product. It would be silly to try to sell to them, as they are already bought in. But it is appropriate to get your customers / fans into the mindset of using your product. More use means more purchases. This Whole Foods picture makes me want to grill peaches tonight.
Don't:
Promote a Promotion. Link the Promotion To Your Product!
Perp: Kia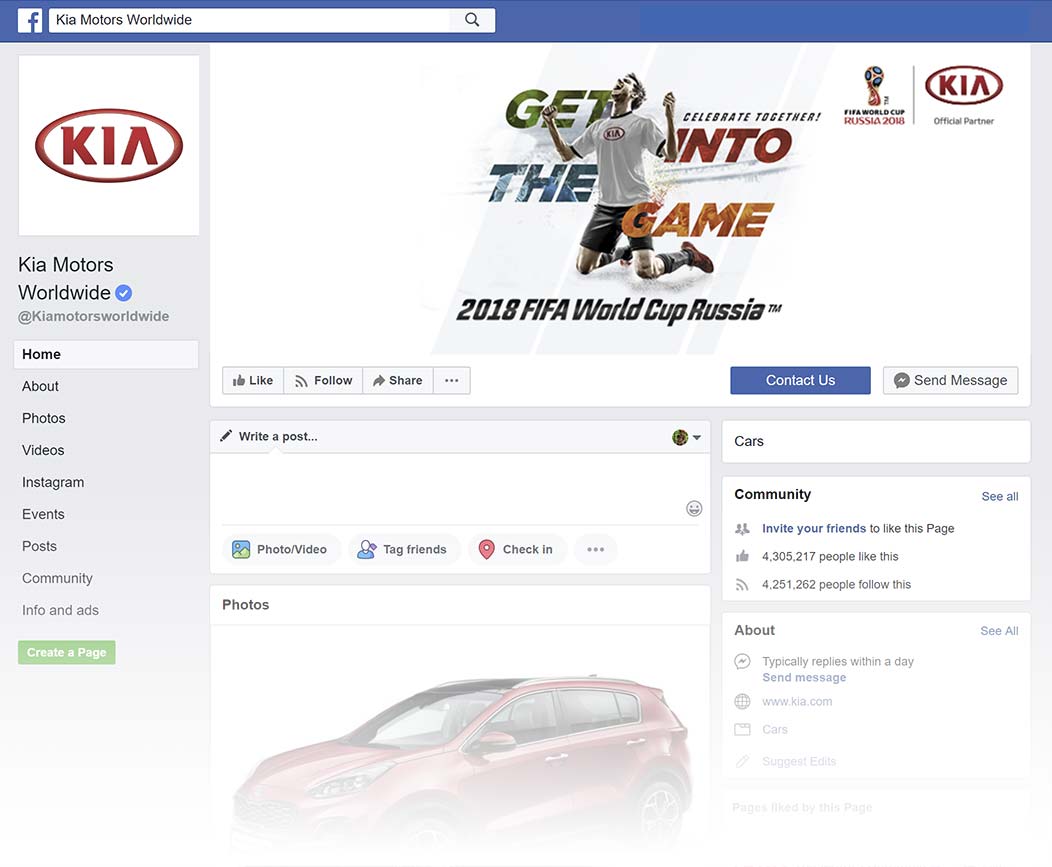 I am sure Kia is very proud to have sponsored the world cup. That is quite a promotion, and very expensive. Those people who connected with Kia while watching the World Cup came to the Kia Facebook page. Now is the time to link the promotion to your product. A reference to the promotion is a good thing, as it will be relevant to the people driven to the page from the promotion. But promoting the promotion with the Facebook page cover is just circular.
Do:
Show a Locally Relevant Image
Hero: Sephora Canada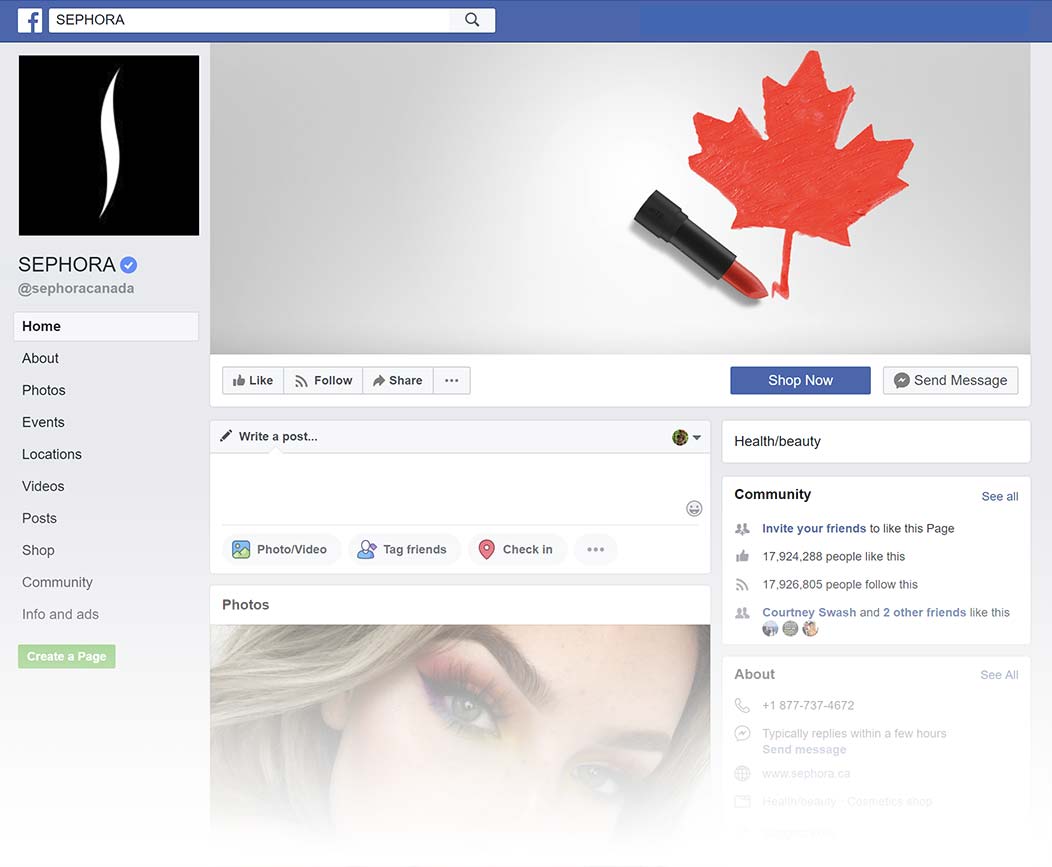 Relevancy is the most important aspect to consider when choosing what goes into a Facebook cover page. One of the easiest and most direct ways is to be locally relevant; use an image that has meaning to the local residents if you are targeting a locale with your Facebook page. Sephora is a global brand, but this is Sephora Canada's page. They have made the smart decision to drive people to their locally relevant Sephora fan page.
Don't:
Use an Image That Gets Awkwardly Cropped
Perp: Starbucks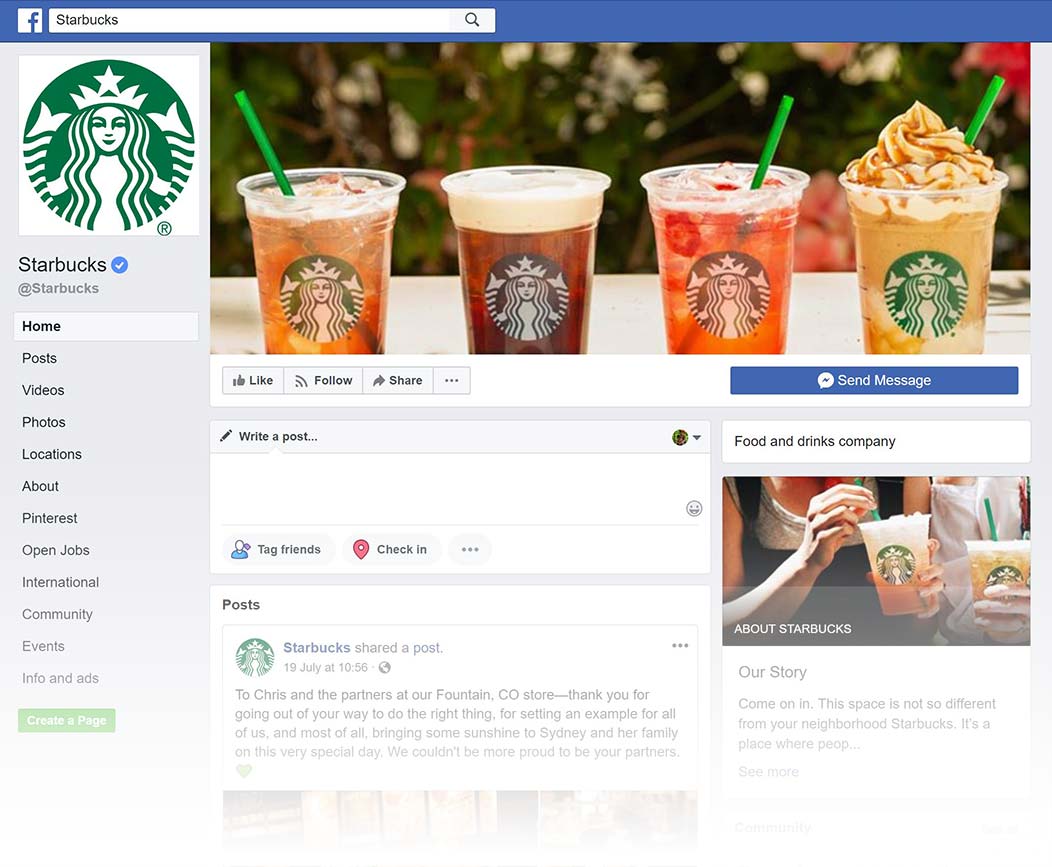 On mobile, the entire Facebook cover image is displayed, but it is cut off top and bottom on desktop browsers. We have a Photoshop template that helps you design the Facebook page cover properly, available for free or with a donation. You want to make sure with our tool, or by testing it live, that the image you choose does not have an awkward crop when displayed on the desktop. You want the focal point to be in the dead middle, and less necessary content top and bottom.