Logo Design Trends for 2017
---
The design trends for logos that can help your business look modern into the future.
This will be far from the only design trends article you will see, but we see a lot of "trends" that we would classify as "fads."
A trend is a change in design that is long term and could change how we design permanently. A fad is a short-term blip that will leave us as quickly as it came. Simply, a trend is something you can design your logo around, and a fad is something you do not want to get caught in. We are going to write a separate article about fads so that business owners can navigate the ever-changing world of design.
We have examined the trends by looking at large companies that are spending millions of dollars to rebrand their businesses to make sure they look fresh and modern, while also solving some design problems in their logo along the way. This gives us a before and an after; a where we have been and a where we are going. The vector / direction is important.
Take note of these design trends and your company can look great for the decades to come.
Simplification.
The big trend this year is logo simplification. You could argue that all of the following trends on this list are just aspects of the general trend to simplification, and you would be right. Design tastes as well as pressure from social media, digital advertising and mobile for logos to be legible when small means that companies are investing billions to rebrand to simpler logos.
The poster child of this change is Mastercard, but you can see the movement in design tastes in the CBS Sports logo, which was in desperate need of an update.
---
Clean lines.
With the general trend of simplification, the first design elements to go are superfluous lines and textures. Large businesses are opting for logos with clean, simple lines. A logo with clean, simple lines makes building signage easier and more cost effective.
Rovio has taken the jagged edges of their logo, and Taco Bell has paired down the lines in their logo.
---
Emblems that fit in a square.
We have all felt the effect of social media this year, and it has had it's effect on logo design as well. Logos are now designed to fit in the square allowed by Facebook and Twitter, and the circle allowed by Instagram. Traditional "wordmark" logos like Subways previous logo was not legible in the small square format. Most brands now have a wordmark with an emblem to fit all applications.
Fanduel has redesigned their logo to have a nice shield, and Subway has redesigned their logo and paired it with a smaller square emblem.
---
Geometry.
Utilising simple geometry is always a good approach to a logo. Geometrical logos are typically distinctive, simple and memorable. We redesigned the Brand Marketing Blog logo in 2016 to be a simple, beautiful geometry. Check out my Pinterest board of Minimals for examples of beutiful geometries.
Uber has bifurcated their app icons to have two different geometrical patterns to distinguish their rider app from their partner app. Warwick Hotels has their ornate logo to a very simple geometrical crown.
---
Less detail.
High detail in a logo can be challenging; the detail is lost in applications where the logo is small, and it can make signage and embroidery challenging. We have seen this trend show itself in sports teams and leagues.
My favourite logo redesign of this year is the Florida Panthers; their new logo is just perfect, from the elegantly designed panther illustration to the colour choices. The English Premier League is a close second. Funny that their both cat logos; I am a dog person.
---
Gradients be gone.
Gradients are when one colour or tone transitions to another. Gradients can look great in the right place, but a logo swatches of one colour is preferable. Gradients can look poor on bad screens and inconsistent in print. And, like clean lines, removing gradients can open up cheaper and better solutions for building signage.
Corus Entertainment has greatly simplified their logo and gone down to green and black, while Holiday Inn has lifted the H symbol out of the overdesigned box from their previous logo.
---
Out with material textures.
Material textures were all the rage three or four years ago; you couldn't find an Apple app that did use some bit of simulated leather, wood or cork. But times and tastes have changed, and consumers prefer simple visuals. And material textures are hard to recognize when the logo is small, when displayed on low-resolution screens, or when printed poorly.
Bud Light has removed the bubbles from the bottom of their logo (in addition to removing a lot more), and Instagram has moved away from the mini camera. Note that the Instagram logo has a gradient, bucking our previous trend. These are trends, not rules!
---
Simple typography.
Google started the trend of companies moving to simple, sans-serif typefaces. Perfect typography can make for a great logo, but it has to be perfect and done by a master graphic designer. The unfortunate thing about so many companies going to blocky, sans-serif fonts is the industry gets homogenous, and no one stands out.
Learn how professional brands standardize their fonts using typography pages in brand guidelines.
99Designs have gone to simple type for their logo, and they use the "99" for their social media icons. After the acquisition from Intel, Mcafee has simplified their whole logo, along with the type.
---
Thank you to Logopedia for making a great central location to do all of the research for this piece.
If you liked this article, be sure to check our our updated Logo Design Trends for 2018.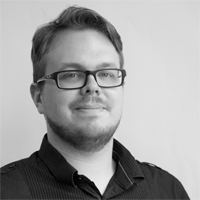 Colin Finkle is a brand marketer and designer with ten years of experience helping Fortune 500 companies tell their story at retail. You can see his work at Colin Finkle's portfolio site. You can connect with him on LinkedIn or Twitter. He is also the author of the book series, the Neverborn Saga.
If you enjoyed this article, join the BMB Premier List to get articles emailed to you early.