Forced into Rebranding; You Won't Believe Why
Brand Marketing Blog is rebranding to BMB to get in line with our branding strategy.
Executive Summary | Abstract | TL;DR

Sometimes rebranding makes sense; if your brand is keeping you from opportunities. The name Brand Marketing Blog was keeping us from exploring channels other than blogging and search. The traffic we get from search is very transactional when we need to form longer-term relationships with our audience members. We are rebranding to BMB and will be introducing new products under that banner. This move will better advance our mission of arming entrepreneurs and professionals with the knowledge to grow their brands.

4 minute read | 1000 words.
I am generally not in favor of rebranding, which is ironic considering we make money providing services to companies that have to rebrand. The problem with rebranding is that there is a lot of brand associations linked with your name and graphics, particularly your logo, and to rebrand is to throw those away along with the brand equity therein.
But there are times where rebranding makes sense. There are valid, strategic reasons to rebrand; it comes down to two questions. Does rebranding put you in a better position for success than you are now? Is your current brand keeping you from better opportunities?
Brands may also simply not work as well as they could, and, like a race car, they just need a tune-up to run at peak performance. Your brand might look dated, is not as catchy as possible or just not reflective of your values now.
There are also ways to mitigate the loss of brand equity that comes with rebranding. An organization can ease the transition, and communicate the change to your customers so that there is no confusion between the old brand and the new brand. A brand can also do it in stages.
What happened?
Brand Marketing Blog hit the end of its road, and we needed to move on.
Quick history lesson: Brand Marketing Blog started when I found the domain ( brandmarketingblog.com ) on auction for a reasonable price. I had a bunch of content that was doing well at Firebrand Creative, but that company had a problem because it was often confused with a company in the US that did precisely the same thing with exactly the same name. The content plus the SEO boost from the domain name would be a winning combo, so I moved the most loved content over to Brand Marketing Blog and started writing weekly again.
We operated that way for a few years and produced over 100 pieces of content, all of which advanced our mission to give entrepreneurs and marketing professionals the knowledge required to grow their brands.
That takes us to today, and unfortunately, Brand Marketing Blog has come to the end of its usefulness.
I love the blog as a platform for combining different thoughts I have and lessons I have learned into a cohesive argument; I would recommend it to any professional. Unifying your thoughts is the first step to becoming a thought leader.
But where the platform breaks down is the transactional nature of the distribution channel: Google. I love that Google helps connect curious people with questions to articles that answer their questions. Google does everything right. But their customers do not form a relationship with the experts answering their questions. They come, they read, they leave.
While our traffic numbers go up and up, I am not seeing improvement in our subscribers to the BMB Premier List and returning visitors that I need to see to make a sustainable business in the future. I am open to the possibility that we could be doing a better job forming long-term relationships with transnational readers, but I am convinced that this is just the nature of the channel we get our audience from. It is a headwind when we need a channel that is giving us a tailwind.
What's next?
Brand Marketing Blog is becoming one part of a larger strategy.
Our lack of faith in the search channel does not mean we are done with blogging. It just means that we need to broaden our distribution to other channels.
Brand Marketing Blog is going to become one product in our portfolio of products. We are going to experiment with videos on YouTube and a book on Amazon to reach customers that we can form deeper relationships with. There will be called Brand Marketing Broadcast and Brand Marketing Book respectively.
Expanding into these new areas in the future presents a problem with our current creative. We cannot have these products under the name Brand Marketing Blog; it just doesn't make sense. The name Brand Marketing Blog was limiting us from potentially better opportunities.
What's the strategy?
We need a new banner for this new family of products; that banner is BMB.
We are choosing the master brand strategy from the list of brand relationship strategies. It was a natural choice as we want all the brand equity to remain with the master brand because we cannot envision a future where the brands are spun out or sold. Plus, we are not huge (…yet), so we need to have every bit of brand equity put into the master brand.
The new master brand will be called BMB.
BMB will represent the people that bring the content, design and consulting to life. It also makes for a nice little schema; all of our products have the initials BMB. It should make it easy to follow our portfolio of products.
Also, BMB is charming, catchy and curt. It should stick in peoples minds easier than "Brand Marketing Blog" ever did. We were inspired by the Wall Street Journal's push of 'WSJ' as their identity in many instances.
What's the logo look like?
A rebrand means a new logo, and here is the unveiling.
Below is the new BMB logo.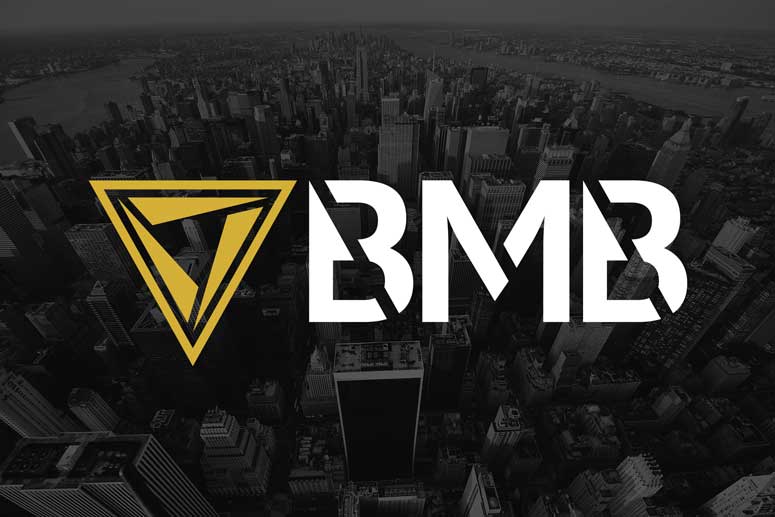 We are keeping the triangle symbol because we love it and it works great on this social media and mobile. It also allows us to keep most, if not all, of the brand equity we have built. Keeping the symbol means that most people will recognize it as the same brand.
We took the time to make a responsive logo set; something we learned from Jacob Cass in his Just Creative blog.


What do you think?
We want your feedback.
Is the logo design nice? Is our strategy sound? We want to hear what you think in those comments.
Does this mean we are any less committed to our goal of empowering entrepreneurs and professionals with the knowledge to build their brands to everything they can be? We are more committed than ever.
We are hoping this new brand will allow is to succeed in these new channels, and they may be a better way of advancing our mission.