Aveva Martin On Her Book 'Make It Rain'
BMB talks to Areva Martin about how entrepreneurs can get exposure through media without advertising.
This is a comment that I hear a lot from small business owners: "I would be as big as the name brands if I could advertise too."
Some organizations cannot purchase advertising margins of the business are too thin, or the access to capital isn't there. A fatalist business owner may throw their hands up in the air and just give up on any sort of exposure than they can generate with their own mouth.
Areva Martin offers hope. Her new book "Make It Rain" guides business owners on how to leverage their deep expertise into exposure through media. She would know; she has built a successful law firm brand, Martin & Martin, as well as a nonprofit brand, Special Needs Network, and her personal brand through her evident passion for advocacy that outlets like ABC, CNN, Huffington Post, and others value.
With today's information economy, you can contribute domain expertise to blogs, newspapers, podcasts, YouTube videos, and maybe even radio and TV. She coaches you to develop your communication skills and helps you hone your message and personal brand so you can add value to media outlets.
Now the big brands will be jealous of you and your prime exposure as a subject matter expert in the content, and not some puny ad off to the side.
Let's chat with Areva.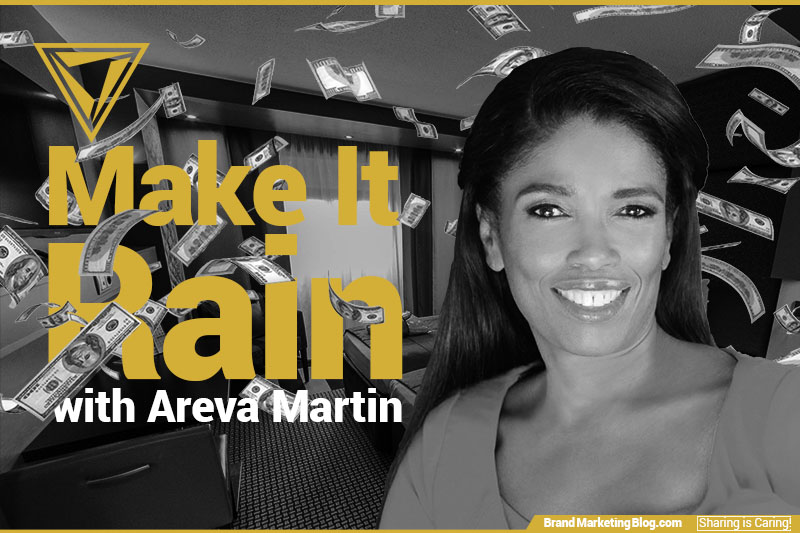 Colin Finkle: Before we get into the business stuff, I have a family connection to autism and have worked with autism focused non-profits. I want to thank you for the work you have done on behalf of Americans with autism.
Areva Martin: Thank you!!!!
Colin Finkle: I feel like now is a critical moment in the history of helping people with autism; there is a public awareness now, and, finally(!), effective behavioral interventions that improve people's lives. Am I wrong?
Areva Martin: Yes we have made tremendous progress with respect to the types of therapies that can improve functioning in almost every area from speech to behavior. However, the therapies are terribly expensive, and families in poor and low-income communities still face great obstacles in accessing services.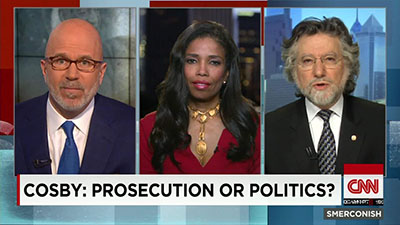 Colin Finkle: What is the definition of the term "brand" to you?
Areva Martin: A brand is someone or something that has distinguished itself from others in the same category based on its skills, expertise and other unique qualities. Brands, however, are not just distinguishable they also create emotional bonds with their customers, clients, and followers.
Colin Finkle: How do you balance your personal brand with the brands of Special Needs Network (non-profit) and Martin & Martin (law firm)? Are they distinct? Transferable? Indivisible?
Areva Martin: My brand incorporates the work that I do as a partner in my law firm and president of my nonprofit. My brand is advocacy, and whether I'm representing a client of the law firm or speaking on behalf of the nonprofit, I am always an outspoken, no-nonsense, impassioned voice for the voiceless.
Colin Finkle: You have an interesting perspective, having built brands for both a nonprofit organization and a business. How do you view the role of brand as an asset for non-profit organizations?
Areva Martin: Brands are critical to the success of nonprofits. Raising sponsorship dollars and individual donations is incredibly difficult in the highly competitive philanthropic world. The nonprofits that are able to do so successfully have built identifiable brands that donors recognized and trust. When a donor makes a donation to a nonprofit, it's not only because they believe in the mission, but more often than not, it's because they believe in the brand and want to be associated with it.
Colin Finkle: How does a brand for a nonprofit differ from a brand for a business, if at all?
Areva Martin: There is no difference in branding for a nonprofit or for-profit business. They both require intentionality, clarity, and consistency in presentation.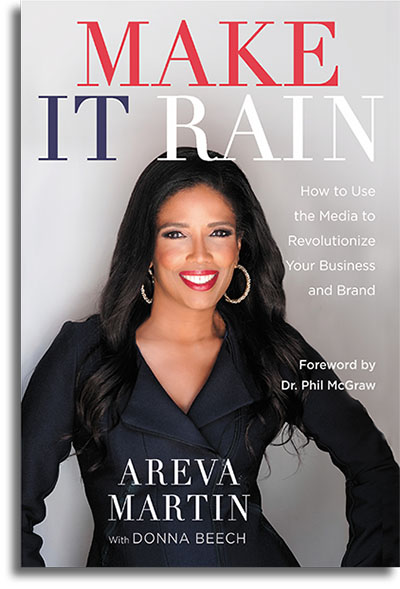 Colin Finkle: Your new book, Make it Rain, makes the argument that an entrepreneur can build his or her organization's brand by appearing in media. Appearances in media can help grow businesses and nonprofits that would not be able to afford to advertise. The concept of exposure without relying on advertising offers hope to a lot of business owners out there whose margins are too thin for ads.
Areva Martin: When I talk about media in the book, I am not limiting it to television and radio. Media today encompasses hundreds if not thousands of channels from Podcasts to online streaming sites. All of these channels have an insatiable appetite for content. They rely upon experts, Business owners, entrepreneurs and professionals to provide that content. One article in an industry publication could result in a business getting hundreds of inquiries and ultimately clients.
Colin Finkle: I have found that many business owners are skeptical of media appearances because they have been burned; they had some media appearance that they might have even been scammed into paying for, and it leads to no noticeable increase in sales. How would you turn around one of these skeptics?
Areva Martin: Their focus is too narrow. I do not suggest that small businesses pay for TV or radio media appearances. There are too many opportunities to provide content that doesn't involve the exchange of money or the traditional media channels.
Entrepreneurs that have been burned should reassess the expansive media channels that are available. They need to have a clearly identified brand and message and be prepared to provide meaningful content.
Start small and think strategically. This isn't about trying to become a TV star, it's about growing your business. Look to your local newspaper, a popular online blog and online magazine. There are abundant opportunities that you have probably overlooked.
Colin Finkle: Media opportunities rely on the guest providing value for the media outlet. What do these media organizations value?
Areva Martin: Clear concise messaging from real experts. If your expertise is growing beautiful red roses, don't pitch yourself as someone who can repair pipes in old houses. Often times people try to be all things to all people. Media organizations hate this because it creates a lose-lose situation.
Colin Finkle: I am entirely with you that media savvy and finding your voice are coachable skills. But is everyone cut out to be on radio or TV?
Areva Martin: No, everyone should not be on radio and TV, and the book is not promoting radio and TV as a panacea. Most people have no desire to be on TV or radio and can be incredibly successful without either. There are millions of people who have built successful brands that they monetize that never appear on television or radio.
Take Michael Hyatt for example. He is a former publisher that has built an online empire selling leadership classes. I don't think I've ever seen him on television, but if you Google his leadership programs, you will find millions of people that follow him and take his online courses.
Colin Finkle: Should some business owners consider hiring a spokesperson?
Areva Martin: Absolutely, businesses that have the budget should have in-house or contract PR persons who can help them navigate publicity. However, a spokesperson or PR firm can't individually be the face of a brand. Some brands do have brand ambassadors. Ronald McDonald is the brand ambassador for the McDonald's restaurant chain.
But as we recently saw with the Facebook data breach debacle, the American public didn't want to hear from a spokesperson. Because of the emotional ties people have to brands, they wanted to hear directly from Jeff Zuckerberg who is the face of the Facebook brand.
Colin Finkle: Any other advice for a fellow entrepreneur in the midst of fighting the good fight…?
Areva Martin: Don't overthink branding. Entrepreneurs can become so obsessed with doing everything right that their quest for perfection undermines the good work that they are already doing. The book provides some straightforward steps to help you both identify your brand and ways to connect with your core demographics. Follow them and you will soon be making it Rain!
Colin Finkle: If people want to discuss the book with you, where can they reach out?
Areva Martin: They can find me on all social media sites at @ArevaMartin and they can visit my website www.Arevamartin.com