Where do I find a graphic designer to design a logo?
Finding a graphic designer can be easy. An acquaintance or a friend of a friend is probably as far as you have to look to find someone who can 'whip something together in Photoshop for you.' But before you get your neighbour's nephew Phil to design your logo, ask yourself if it is right for your business. Phil may be an excellent designer, but approach with caution; designers who have the business sense and practical experience to develop a proper logo for you are rare. I would estimate less than 5% of people who know how to use the graphic design programs Adobe Photoshop or Adobe Illustrator is qualified to design a logo that could last the entirety of your business.
I will outline all of the options of where to find a designer. I will start with the best and end with the least effective. I do not recommend all the options I list, and I will tell you which ones. But I wan't you to know all the options so you are informed to make the best decision for your business.
How do you know a logo is good?
In our post on what makes a good logo, we said that the logos that are effective are distinct, simple, striking, appropriate and legally protect-able. You should be sorting the logo concepts based on these factors. Thankfully we made that easy with the a handy PDF: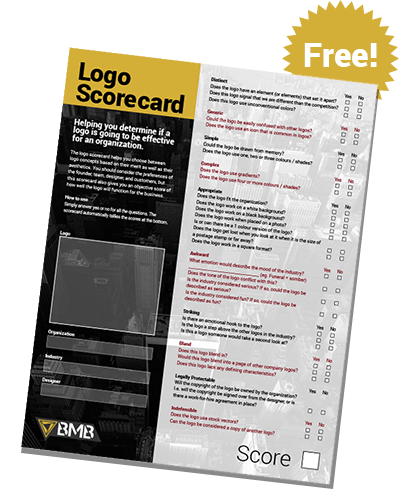 Score your logo designs to separate the good from the bad.
Sign up for the BMB Premier List and receive the Logo Scorecard via email.
Ways to find a graphic designer to design a logo.
1) Business Referrals
Appropriate for: Startup, Small business, Large business.
This is my top choice. It is simple: step 1) find a similar sized business where you could see the design of their branding is high quality, and step 2) ask them who designed their logo, what is their contact information, and if they would recommend them.
The reason this is so powerful is because someone has already found out that a) their work is good, and b) they are easy to work with. Don't downplay how easy they are to work with because you will work with them on dozens of projects: business cards, letter head, ads, website (directly or indirectly), etc. A business is unlikely refer someone if they had a poor experience.
I would suggest asking local businesses at first. Local businesses more likely worked with a local designer, and having your designer close buy is powerful because you can have face to face meetings and they know the culture / design aesthetic / competitive landscape of your area. Someone out of the area may not have the cultural context to properly design a logo for the region you plan to do business in, and may be more challenging to do business with.
2) Full Time Hire
Appropriate for: Startup, Large business.
This is for the minority of businesses, but will garner the best results. Hire a designer early on in your startup only if you have products and services that will require a lot of design work. A designer who is a full time member of a team will be fully invested in creating an amazing logo. They will also look at it in a broader perspective when they will be the ones applying it to all of the places on your product, app, packaging, etc. That context will get you a cohesive branding strategy rather than just a logo, and that is good for your users / customers.
If you are hiring someone and you know you need a logo, hire them for the job they will be doing 90% of the time and then talk with them about logo design. For example, if you are hiring a UI designer (user interface designer) than make sure their world class in UI design, and can design a logo. Don't compromise on their core skill. Ask them if they feel passionately about designing the logo for the company, and ask them for sample of logos they have designed. They most likely will have them in their portfolio.
If you are rebranding and already have a full time designer on your staff, then for-God-sake ask them if they wan't to be a part of the logo design process. If you don't, that person will feel dejected and unappreciated and you will get poor results from them afterward. I can understand if you do not think they are good at their day-to-day job but are not talented, creative enough, or have enough time to design the logo you imagine. But their day-to-day job may not give them the opportunities to show how creative they are. Even if they do not design the final logo, you can use to consult on designs from other sources; they will be looking for things that you aren't qualified to look at, like compatibility with your common print processes, file size, or integration in the UI of your app. Respecting a colleague's expertise and potential contribution is professional behaviour, and will get your company better results. (For more on that, listen to Manager Tools. )
3) Branding Firms
Appropriate for: Large business.
A branding firm is a sub set of marketing firms that specialize in logo design and the cohesive design of all customer touch points. The high cost and comprehensive work of these specialists means that it only makes sense to design art for brands that have high investment behind them in order to scale quickly. For example, in 2011, Uber replaced the logo designed by co-founder and designer Garett Camp for one designed by the branding firm Inicate Design Group because they wanted to scale into international markets with more investment.
A branding firm will give you more than just your logo. They will provide a brand guideline in the form of a book / PDF. They will design type faces, backgrounds, borders, icons, ect. and the book will show how they are to be used. This is helpful because it can be shared with other designers, developers, third party vendors and more to make sure everyone is using the same playbook and the brand looks cohesive which will result in higher customer retention. Branding firms can also design most of the pieces you are looking for, but they are probably looking to move on and design another logo for another company. Duh, their specialists. And, unlike marketing agencies, this turn around keeps them from having to worry about conflicts. But branding firms give you the power to move forward on your own and own your branding.
How do you find them? Best to look to point #1 and get a referral from someone who has worked with them before. Alternatively, you can search for an appropriate one on Google or Linked In. When I Googled "Branding Firms" I got 3 companies within 20 miles, and an article listing 30 firms in my major city (Toronto). Look for companies they have "Branding" or "Brands" in their titles. Vet them thoroughly, and ask for references and speak to them. This is an investment: treat it like one.
4) Social Media
Appropriate for: Startup, Small business.
No, I don't mean asking your Facebook friends "if they know a graphic designer" (we will cover that later.) I mean using specialized tools to get the job done:
Behance
Behance is website where designers can display their online portfolio. It became such a large and powerful community that Adobe acquired them, and the Adobe Creative Suite is what 99% of designers will use to design your logo.
When searching, set "Creative Field" to "Branding." I would recommend you set the "Location" to your country and maybe even your closest major city. Local is not essential, but important. Remember: ask for and check references.
Pinterest
Pinterest is a tool for people to share visual things with friends and strangers, and logos are visual things. Make an account and search for "branding," "brand" or "logo." It is not possible to narrow searches by location. After you have searched, click on the images you like to make them larger. If you then click on the image again, it will bring you to the website where the image was taken from. This is usually the creator's portfolio, a lot of time on Behance (see above), and you should be able to get their contact information from there. Remember: ask for and check references.
5) Local Search
Appropriate for: Startup, Small business
There is not much too this one: open Google Maps on your phone or web browser, find your local area, and search for "freelance graphic designer." Wow! I bet you didn't know how much of a booming graphic design industry you had right around you.
This way of looking isn't refined or curated at all. The vast majority of the results are not going to be worthy of your business; be discerning and select for both talent and professionalism. Here are some questions we would ask to widdle down the list:
Does this person make great logos? Or make logos at all?
Does his / her online presence look professional or amateurish?
Does he / she share client testimonials?
Is this person broadly talented, or in a niche? If a niche, does it fit with my business?
Can I find this person on Linked In, and if so, does that look professional and have client / colleague testimonials?
When I reach out to this person, are they kind, courteous and responsive?
When I ask them for references, do they provided them? If so, do the reference clients have an easy time of doing business with this person?
6) Creative Staffing Agencies
Appropriate for: Startup, Small business, Large business.
Staffing agencies specializing in designers are companies with a network of professionals they they can put you in touch with for a fee. You would contact them, they would send you designers portfolios based on your needs, and you can pick a designer to work with. You are billed by the agency based on how many hours of the designers time you take up, and the agency takes a percentage fee as a middle man.
These companies are a shortcut to qualified designers and will save you time, but they do not do anything you cannot do yourself. If you work with a designer and like them, you may get stuck paying that middleman fee forever.
One of the first things the sales people of these companies are going to ask you is: what's your budget? They mean how much are you willing to pay per hour. From firsthand experience, I know this question to be inconsequential. Poor designers will charge lower rates, but they will require more time to do their work, and more of your time with work that requires revisions. The result is you pay a lot, and get poor work. Good designers will command a higher rate, but do work efficiently and effectively the first time. The result, you pay a lot but get great work. In the end, you will pay the same no matter what the rate. Just say you wan't great designers at any rate.
Vitamin Talent: This is a company will find you graphic designers, web designers, and copyrighters. They toute a 110% money back guarantee.
Creative Circle: These guys have offices all over North America, and can help you find creative proffessionals for freelance and full time.
Aquent: This company had innovative takes on the temporary and full time use of designers for advertising.
There are many others, some of which may be in your local area if you search.
7) Marketing Agencies
Appropriate for: Large business
Marketing agencies are companies that would like to purchase advertising on your behalf: banner ads, retail displays, billboards, radio spots, even Super Bowl ads. They have graphic designers and marketing strategists ready to design your logo. These people are just there to service you so that you will do an advertising buy. They can do a good job of it, but keep a few things in mind: 1) it is not their core competency (if it were, they would be a branding agency), and 2) they are really only doing the creative for you to build a relationship and have you make a much larger purchase on a media buy.
8) Print Shops
Appropriate for: Startup, Small business
A print shop is a local business that can print things like your business cards, letter head, brochures, and whatever. Can they design your logo? Yes.
All print shops have an in house  graphic designer. Printing things correctly requires a step before the printer called prepress. This is where a designer checks everything, and makes sure all the content, fonts, colours are all the same and the file does not have any issues with ink, and adds things like trim marks to cut the print piece precisely later on. The person doing this work is a trained graphic designer. He can design your logo, and the print shops like doing that work because you will most likely print things with them. Some treat design as a loss leader, resulting in a great deal for you.
This is a grey area; I can't recommend it, but I can persuade you against it. I have known some talented designers in print shops. I have driven through small towns with businesses that have exceptional logo after exceptional logo because the owner of the local print shop is so talented. But this is the minority. Most designers who get into printing are not the talented designers who can design an effective brand for you. All of that prepress work I mentioned earlier? Talented designers outsource that right away, and focus on creativity and business.
What you can do that may have consistently better results is ask your local print shop to refer you to a freelance designer or two in the area. They will be working with local designers all of the time and they will recommend the ones who they like working with, who are probably very professional. Remember, you will have to work with this person a lot, and having a professional is invaluable.
9) Online Logo Design Services
Appropriate for: Startup, Small business
Okay, we are starting to get into options that I no longer recommend, but you deserve to know what is out there so that you can make a decision that is right for you and your business. Online logo design services fit that bill.
They are websites where you can fill in a web form to create a brief for a designer, pay some money up front, and get designs back a few days later. They are often inexpensive. Sounds awesome, so why don't I recommend it? It is transactional, and you don't form a relationship with the designer you are working with. The designer working on your stuff is a cog in a machine. I don't want you to have a relationship to hold hands and sing kumbaya; no, I want you to have a working relationship so that your brand can be designed consistently, effectively and by someone who is passionate about it. I also do not recommend it because they work I have seen in their examples is mediocre at best, and that is the best of their work! I can't imagine most logos are any good.
A word of caution, whenever having a logo designed but especially with services like these, check the terms of service or contract. Your business needs to own the copyright of the logo 100%. Some of these services will basically license you the copyright which could end in tears for you later.
Deluxe Logo Design: This has a much more personal approach by pairing you with a designer that fits your style. As these things go, it's as good as it gets.
Logo Design Team: This company uses in house designers to design your logo (as opposed to freelance designers). That is a great thing. Why? Because their turn around time is great, and you are more likely to have a designer that gives a damn working on your thing.
Logoworks: This is a professional services company by HP. They design logos, business cards, websites and more. There has been accusations that their designers have plagiarized other designers work (more info).
There are many more of these services.
10) Personal Referrals
Appropriate for: Small business
Remember your neighbour's nephew Phil? That would be a personal referral. There is nothing inherently wrong with having someone in your social circle recommend a designer, they just have no experience working with the person they are recommending. Which is why I would advise you to get  referral from a business contact rather than a personal contact.
Phil could be a nice guy to his neighbour at family get togethers, but he may be horrible to work with, or he may be fine, you just don't know. You open yourself up to risk with this type of referral: risk of loosing time and money on someone who is not qualified or hard to work with. To midigate this risk, you need to vet your graphic designer candidate thoroughly (see the questions I suggest in #5 Local Search). Also, there is a social pressure to hire or contract someone from a personal referral that isn't there with a business referral, so you could get yourself in a socially awkward spot.
11) Crowdsourcing / Spec Work Contests
Appropriate for: Startup, Small business
There are sites out there that will have many  graphic designer compete in a fight to the death for your business. Well not quite to the death, but they will submit a lot of logos for you to choose from. Here's how it works: you put up prize money, dozens graphic designers design logos, you choose your favourite, and the winning designer gets the prize. You potentially choose from hundreds of logo concepts as opposed to just 3-5 though most alternative on this list. Some of these services will allow you to retract the prize money if you do not find a logo you like. This is called  crowdsourcing.
I don't recommend this. I hear you saying: "but Colin, that sounds great!" For the business owner, it does sound great. But to the designer, it is predatory. The structure of the contest means that most of the people who have given their time and expertise do not get paid, and that just isn't fair. You might thing "that's business" but when a customer decides not to buy your product, you can sell it to another customer. A designer can't do that if they earnestly designed a custom logo for your business. But most of the designers on these sites are not earnest; it seems as if most of the logos submitted are recycled with slight revisions anyway. To understand this topic better, check out AIGA president Debbie Millman's interview with NO!SPEC, or get the highlights here, and there is a great free PDF ebook I found on this from The Logo Factory.
If you are fine with the questionable ethics, I don't judge, but there are some reasons it still doesn't make sense. Firstly, most of the people who can afford to not get paid for most of their work come from the developing world where the cost of living is rock bottom, and you get much better results when have a logo designed by someone who is part of the culture of your market. Secondly, you might find a logo of another company that has only slight colour or wording changes. This can make trademarking impossible, and can confuse customers.
The options for this are Design Contest, 99 Designs, Design Crowd, Zillion Designs, and Crowdspring.
12) Stock Logo Sites
Appropriate for: Small business
Stock logo site sell predesigned logos. It is nice because you can see what you are buying, you get it the same day, and prices are very low. This is an especially good option for someone who is flexible on the name of their business.
Why is it so far down the list? Well I don't recommend it because you are going to need to hire a graphic designer anyway and give them the file of the logo you bought to make business cards, a website, your storefront signage, etc. By buying a stock logo, you are just putting off hiring / contracting a designer. Also, you may pick a logo that looks nice but is not appropriate for your business, and a graphic designer may help you avoid problems. For example, some logos are not designed to make back lit exterior signage, so if you want your logo on your building, better get some input from someone who knows.
If you choose to go this route, make sure that the logo is only being sold once. Looks for sites offering "exclusive rights." There are sites out there that sell "logo templates" that they keep selling under the logic that a graphic designer is suppose to modify and customize the files. This is not good. Having the same logo as another company can create confusion for your customers and make it impossible to get a trademark. I could only find two that would sell logos with exclusive rights:
Stock Logos: I have seen some good work on here, and you can get a logo for $250 to $800. They take the logos off the market once you've purchased it.
Brand Crowd: These guys also sell logos from $300 – $1000 and a select few even come with the domain name for the name featured in the logo. For example, a Teddy Bear Candy logo may come packaged with www.teddybearcandy.com.
13) Stock Photo Sites / Stock Vector Sites
Appropriate for: Small business
These sites offer dirt cheap logos ($3 to $30) and you can download the logo immediately. If you search "logo" and check only "vectors" then you will get stock logos. This is a very poor option because a) you are going to have to hire a designer to add your name to what you download, and b) they continue to sell the logo after you have bought it, meaning there will be other companies with the same logo. This leads to confusion for your customers and the inability to get a trademark. What you download may be in a format you cannot even open, so you will need to hire a graphic designer for that alone, or buy Adobe Illustrator.
Even though I whole heartedly do not agree with this approach, here are the sites: Adobe Stock, iStockPhoto, ShutterStock, and Logo Open Stock.
14) Logo Creator Tools
Appropriate for: Pre-revenue business.
This is the bottom of the barrel. If you have read this far, you really want to know all your options and I applaud that as a business decision maker. I clearly don't recommend this option.
These are websites and apps that will spit out a logo when you give it a few parameters like your company name and preferences. They are basically just putting your company name underneath some stock logos. They will continue to put other company names under the same logo that you bought. This will confuse your customers, and you don't own the copyright to your logo. Those are big problems. Some website builders (like SquareSpace) will bundle this in for free. This may be an okay solution to get up and running, but you will have to rebrand in the future, and hopefully using some of the options on the top of this list.
Edit: The Shopify Online Logo Maker was recomended to me by an entrepreneur as something that can give you enough for your first set of meetings with investors.