ABOUT BMB: BRAND MARKETING BLOG
SUMMARY
The Knowledge You Need To Grow Your Brand
BMB is an online journal with articles that help entrepreneurs, marketing executives, and designers reach their full potential as brand builders. BMB publishes articles and interviews with examples, concepts, and teaching that enables readers to build extraordinary brands.
LOCATION
Burlington, ON, Canada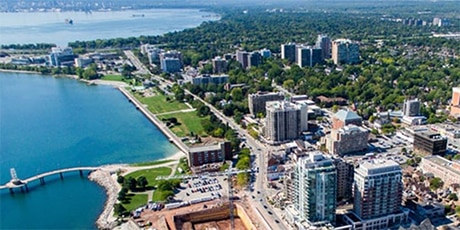 Image courtesy of the City of Burlington
SOCIAL MEDIA
BACKSTORY
The Story Behind Brand Marketing Blog
BMB has always been a way for readers to grow as a brand builder with me.

Colin Finkle, BMB Founder
Brand Marketing Blog was initially called FireBrand Creative, which was started in 2009. I started FireBrand because a) I didn't know anything about branding, and b) I did not have the credibility to give anyone advice on their brand.
I wrote as I read books like Building Strong Brand by David Aaker and The Power of Cult Branding by Ragas and Bueno. I wrote as I listened to Podcasts like Marketing Over Coffee and This Week In Startups. I wrote at night about what I was observing at my day job working with brands like Cadbury, Nestle, and Sony.
FireBrand Creative grew in readership, and articles went viral at certain points, but finding readers and growing pageviews wasn't the point. Writing to me has always been a way to structure my thinking. But FireBrand was about me; I was not focusing on my audience. I understand now how much of a mistake that was.
I saw the domain brandmarketingblog.com in a domain auction, and I put in a bid for on my iPhone 3G as I boarded a plane, not thinking I would win the auction. But I did, and it represented an opportunity to level up. I migrated a few articles from the old blog but mostly started over with a new philosophy.
BMB's philosophy is to help the audience gain the knowledge they need to grow their brands. It's about the reader. Sure, I learn with them, but my goal is to level you guys up so you can achieve the goals you have for your brand.
This philosophy has taken us to some weird places; I have written on strange topics like poker terms applied to business and understanding the TM symbol. I have learned about things I never thought I would, like women's athleisure apparel. But those are the topics that people have been looking for, and I am glad to help.
TEAM
The Brand Marketing Blog Team
Colin Finkle
Founder, Editor-In-Chief
Website | Twitter | LinkedIn | Instagram | Pinterest
For 14 years, Colin Finkle has help corporate brands communicate their value at retail. Sony, Cadbury, Nestle, Warner Brothers, Fox, Ubisoft, Philips, and the Dairy Farmers of Canada are just some of the client's Colin has designed marketing material for.
Now, Colin is passionate about enabling entrepreneurs and public figures to compete with big brands. He founded Nordeau, a Canadian brand marketing agency, to help influencers and SMBs find their brand image.
Colin's background is in design. He started his journey with a Bachelor of Industrial Design from Carleton University. He immediately went into retail marketing; he interned at Red Leaf Retail Concepts and worked at FX Creative. He worked his way up from a junior designer to the Studio Manager at Matrix Marketing. He is now running Nordeau.
Colin's passion for branding started when he was a kid; he sketched the Marvel superheroes' logos as much as the heroes themselves. He has been writing about brand marketing since 2007 when he started his blog: FireBrand Creative. That blog became BMB: Brand Marketing Blog in 2015. Colin has also written for JUSTCreative.
Lexie Lu
Writer
Website | Twitter | LinkedIn | Facebook | Instagram | YouTube
Lexie is a freelance web/graphic designer, UX content strategist, and design writer. She has a fervor for design, coding, writing, and (of course) copious amounts of coffee. Lexie graduated with a dual major in Creative Writing and Commercial Design, and through those grueling study hours (facilitated by coffee), she made time to write on her blog.
She also enjoys reading and watching black and white movies (Now, Voyager is one of her favs).
Her articles feature design trends throughout all industries and show how the field is always changing. Her portfolio features her skills and recent work.
She has contributed articles to Adobe: Marketo Engage, Creative Bloq, Website Magazine, Business.com, Boxes and Arrows, 99designs, and JUSTCreative.
Joshua Doty
Writer
Website | Facebook | Twitter | Instagram | LinkedIn
As the Founder & Brand Developer at Clokendagger, Josh oversees the creative and strategic direction of the company. With over ten years of experience in the design industry, Josh builds brand strategies and executes creative graphic design that helps clients stay competitive, relevant, and impactful.
Throughout his travels, Josh has collaborated with digital marketing agencies and creative influencers, including Brandography, Corning Museum of Glass, East Shore Marketing, and DPM Solutions, as a professional graphic designer and consultant.
He received his BFA from Rochester Institute of Technology in Graphic Design, including a Minor in Advertising, and continues to educate himself on industry news and design trends.