We put the best eSports team logos head to head, and learn how to design a sports logo.
Executive Summary | Abstract | TL;DR
Sports logos connect players and fans. Sports logos must have a strong concept, be bold in their line work, read from a distance, have a strong color scheme, not use gradients (because of apparel printing / embroidery), take more creative risks than a corporate logo, have a sense of movement, and be novel.
The eSports industry is growing fast; it is expected to reach $1.5 billion in 2020. Brands like Red Bull, Ford and Uber are spending tens of millions to sponsor teams and events. eSports fans spend 3X more money than basketball fans to be part of the action. Fans can connect with eSports athletes through streams, skins, live chat, real-time donations, and playing alongside the players.
We matched up logos in "games" where a panel of designers chose the logo they thought was best. We do a group stage, semi-finals and final. Read on for the results!
7 minute read | 1700 words.
Sports teams are all we want brands to be; a symbol and a tribe that we can rally around. The bold designs of the team logos and apparel connect a teams fans to the players.
You can't convince some people that competitive video gaming is a sport, but no one can deny the growth of the eSports industry. The revenue from eSports has been growing at a steady 32% year over year and is expected to grow to $1.5 B in 2020 (New Zoo). Two-thirds of that revenue comes from classic brands like ESPN, Red Bull, and Gilette buying into the industry with media rights, sponsorship, and advertising. Fortnite creator, Epic Games, has committed $100 million to the prize pools of Fornite tournaments in the game's first year; that is more than the total of all other prizes for all other games in the last year… combined.
If you don't think eSports is a big deal now, you will in next couple of years.
The average eSports fan shells out more than a basketball fan, $54 vs. $15. Fans of PUBG, League of Legends, and Fortnite can view, connect and participate in ways that are just not possible for fans of baseball, football, basketball, and soccer. Streams, skins, live chat, real-time donations, and playing alongside the players are things that were never possible for traditional sports, but happen every day in eSports.
Could you imagine witnessing the start of dynasty franchises like the Yankees, Cowboys, or FC Barcelona? Well, you can see the beginning of the next big eSports today. eSports organizations like Echo Fox and Team liquid have multiple teams competing by playing different video games under the same banner. And these organizations have sponsors such as Alienware, nVidia, Ford, and Uber lining up to attach their logo to the jerseys.
So it is essential that these up and coming brands get their brand identity right. Designing a logo for a sports team is unique because it needs to be strong, iconic, simple and dynamic. There are also technical concerns that come with printing or stitching on apparel.
We are going to pit some of best eSports logos against each other and have them battle it out. Along the way, we are going to understand what makes a good sports team logo.
Update! We took what we learned and designed our own eSports logo. The design and more info on the bottom of the article.
---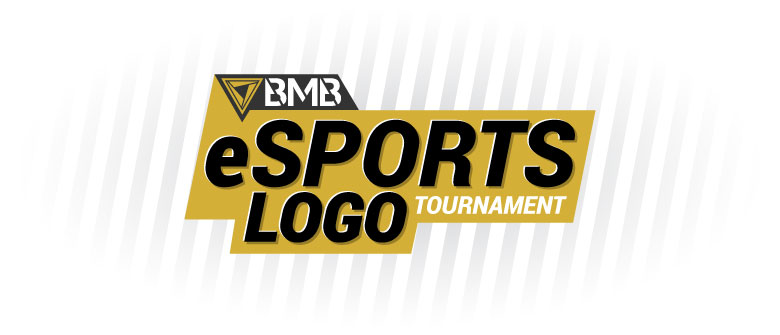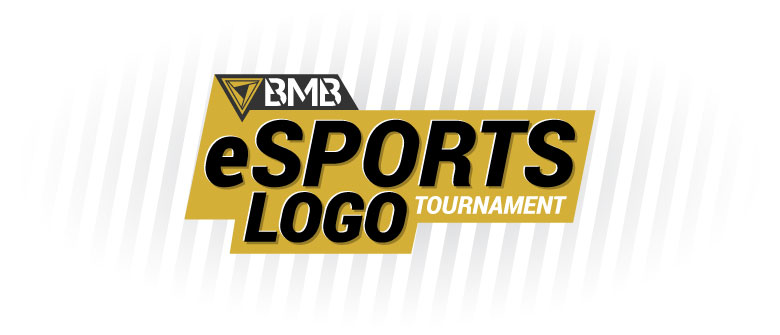 Tournament
The tournament will have logos battle it out on their merits, and the winner is decided by me, Colin Finkle, in consultation with a panel of other graphic designers.
First will be the group stage, where four eSports team logos will be pitted against each other. The strongest concept and best execution will move on. The semi-final games and final game will be logo vs logo, and the designs will score points for their merits and receive penalties for their flaws.
We will arrive at a winner. This logo will have a strong message, be appropriate and powerful for eSports, and executed with strong technical ability.
A note to the designers of these logos: we do not think any of you are bad designers. We know the best design you are capable of rarely comes from the approval process of clients. No disrespect here; this is all in good fun.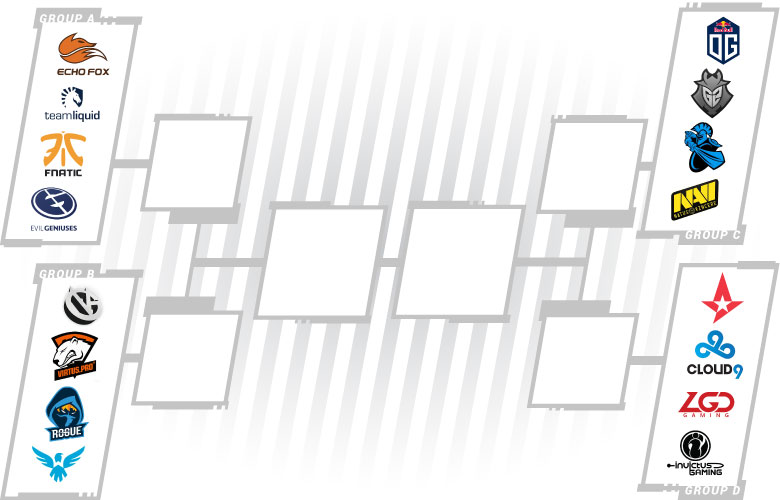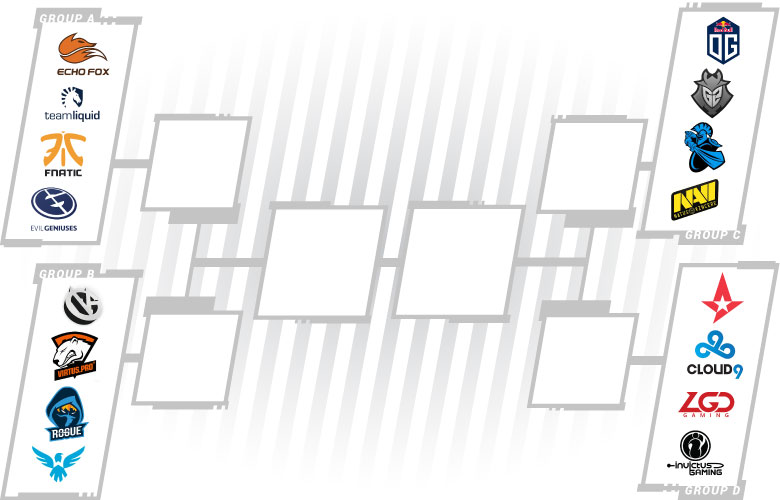 ---
Group Stage
Group A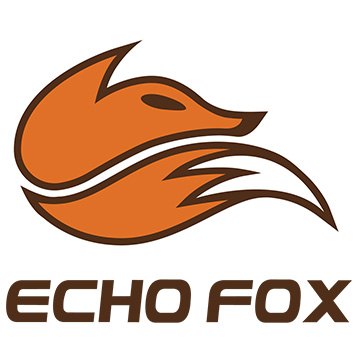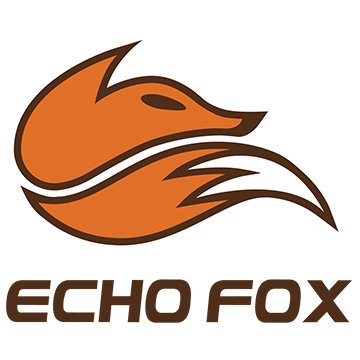 Echo Fox 3-0: The fox logo has a strong sense of movement. It is novel, well executed and would work well in all eSports applications. It proves unbeatable in the group stage.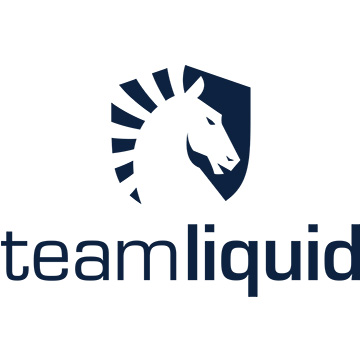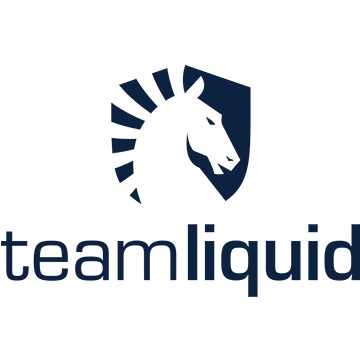 Team Liquid 1-2: While there is nothing "wrong" with the Team Liquid logo, it lacks any intrigue and doesn't match the team name. It struggles here.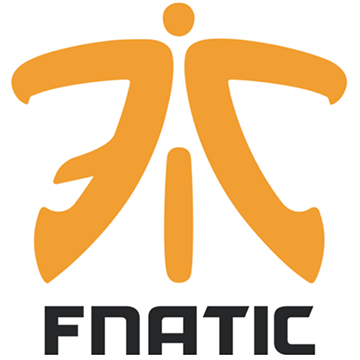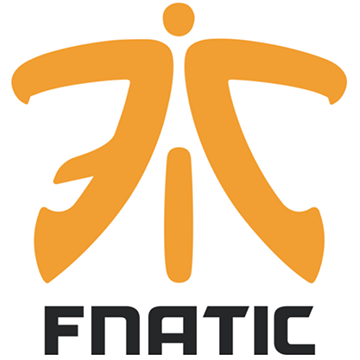 Fnatic 2-1: The Fnatic logo is fascinating and memorable, and the designer panel took notice. This may have won if it was in a different group.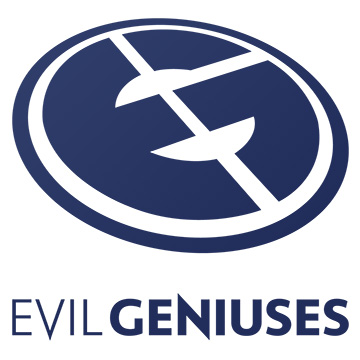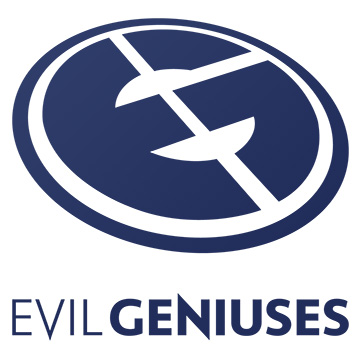 Evil Geniuses 0-3: This logo struggles. There is nothing about it that says sports team, and the faux 3D skew is a trendy tactic that tried to make a boring logo more visually interesting.
Group B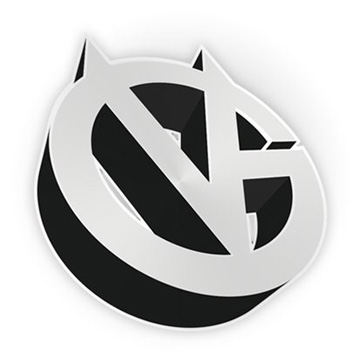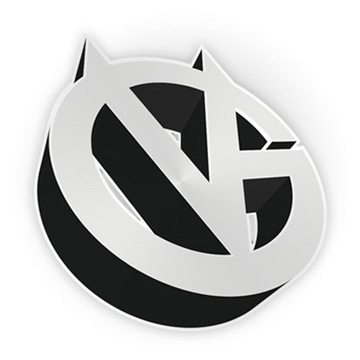 Vici 0-3: This logo is outclassed here. It is completely inappropriate for sports: it is hard to read at a distance, it is not memorable, it is impossible to embroider, …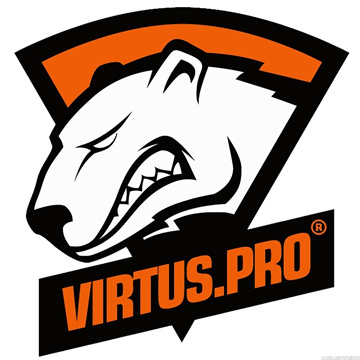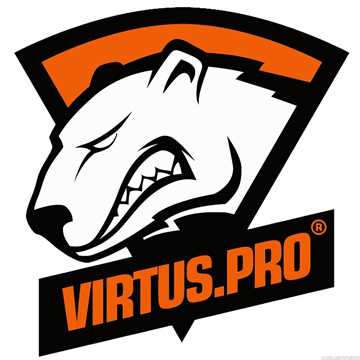 Virtus Pro 2-1: I was surprised that the polar bear logo was a hit among the designer panel. But maybe I shouldn't be, because it is a fun concept, well executed, and is excellent for a sports team. But it lost in overtime to Rogue.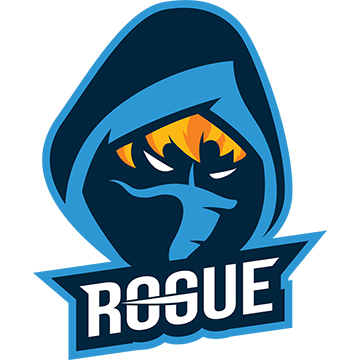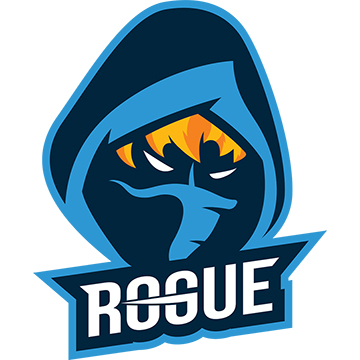 Rogue 3-0: This logo is a fantastic concept and well executed. The logo sets a personality to the team and is a nod to gaming heritage, where the rogue class has appeared in fantasy games back Dungeons & Dragons.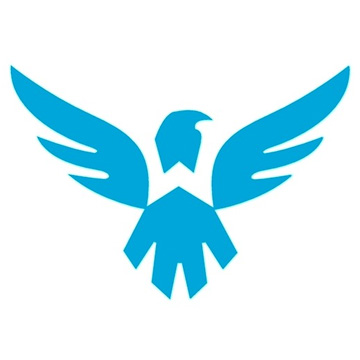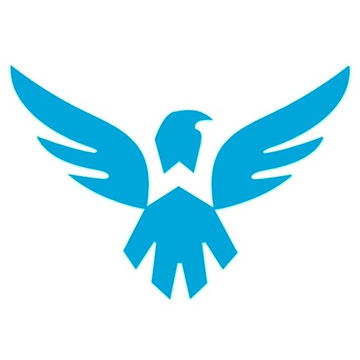 Wings Gaming 1-2: I was a fan of this logo, but it didn't fly with the panel (pun intended.) It's military vibe give a disciplined personality that any sports team could embrace. Go look for the negative space W. See it? Awesome.
Group C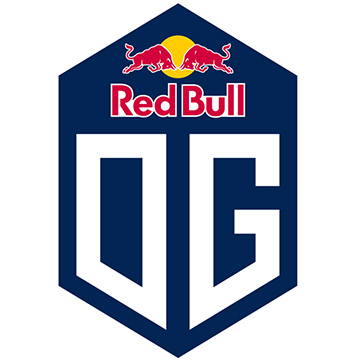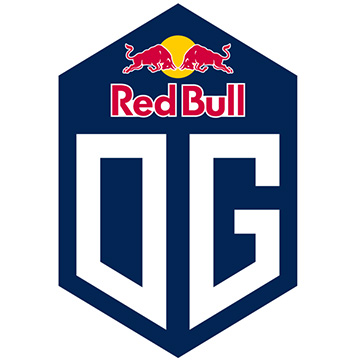 OG 2-1: This logo is just fine. The 'OG' look nice, and it integrated the Red Bull sponsorship into a nice crest. But there is nothing memorable here; there is nothing that captures the imagination.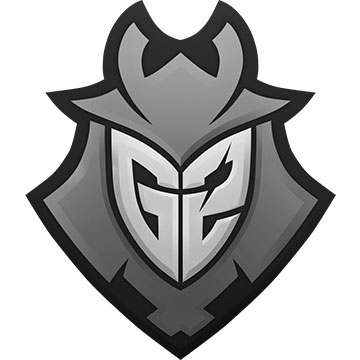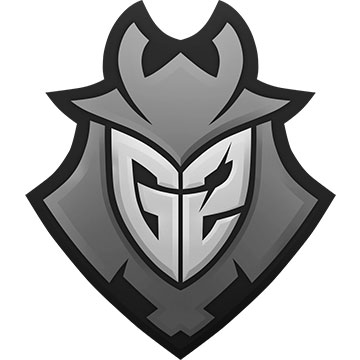 G2 eSports 3-0: I have worked on logos where the concept is so strong and fitting that it just seems to design itself. I imagined that happened here. The samurai with the G2 mask is just an exceptionally fun and appropriate concept.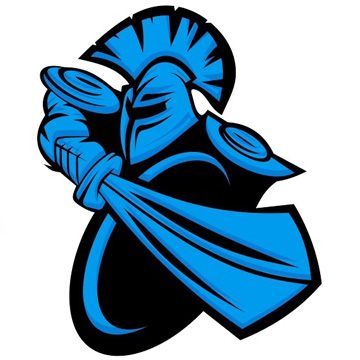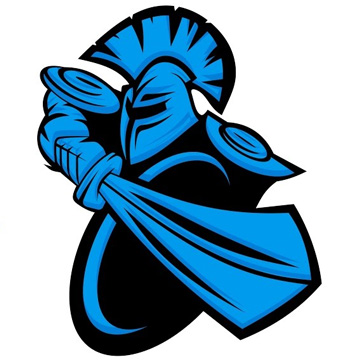 Newbee 1-2: This logo has a fun illustration of a Spartan, which is an excellent reference for a sports team. But it is unnecessarily complicated, and the blue / dark blue color scheme doesn't have enough contrast for the logo to read at a distance.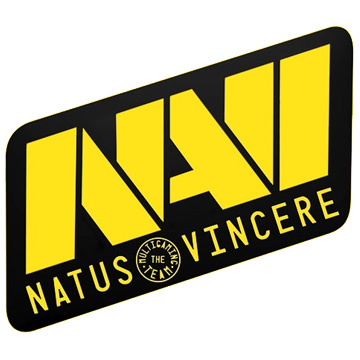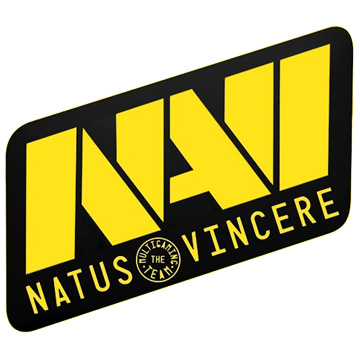 Natus Vincere 0-3: Noone on the panel could understand the intent was here. What is the top part? I kind of see an N and A. Why these colors? This logo screams "local contractor," not eSports. And why is there that tiny "multigame the team" circle? It's doing nothing that small.
Group D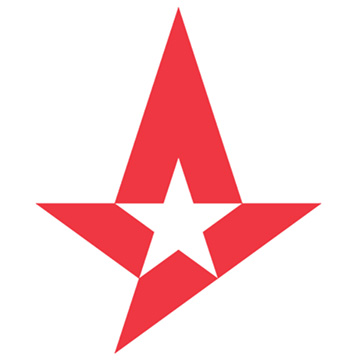 Astralis 2-0-1: This was one of my favorite logos. It is rare it is to design a simple, striking, novel geometry. The design here did, and is very memorable as a result. I was outvoted by the panel, so we'll say it tied with Cloud 9 but didn't move on by goal differential.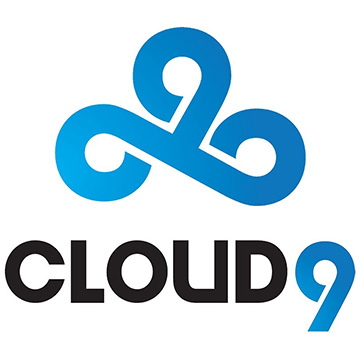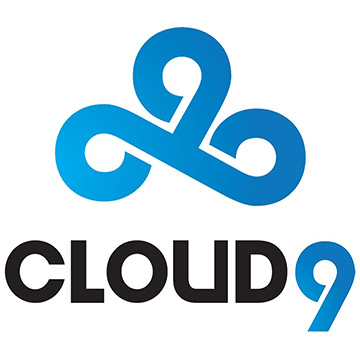 Cloud 9 2-0-1: Integrating the 9 into a cloud symbol is the work of genius. And that 9 is the same geometry and gradient in the word mark… magnifique! It moves on, but it is a design that might be more appropriate for a tech company over a sports team, so that may hurt its chances in the semi-finals.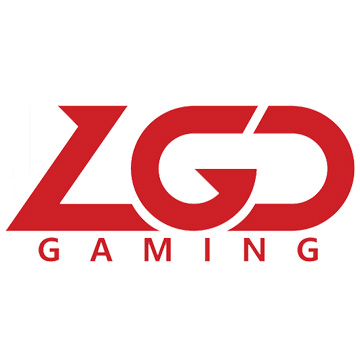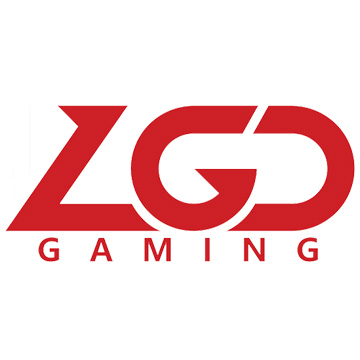 LGD Gaming 1-2: There is just so much missed potential here. You could name your team anything, maybe something evocative like "Dragon's Bane." But no, just LGD. And then just mix the letters in a fun way. There is just nothing for fans to grab onto.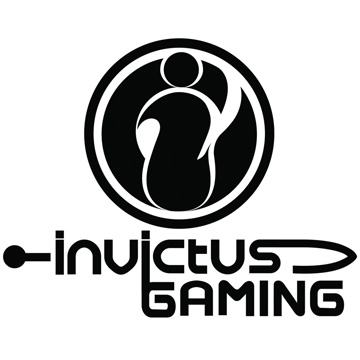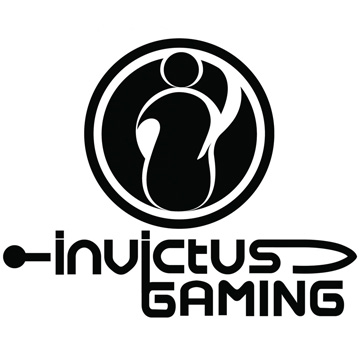 Invictus Gaming 0-3: This logo looks like it was designed by a committee; I am sure there is an unknown backstory, but whatever it is, it didn't result in good design. The symbol reads as a foot to me from far away. Rough.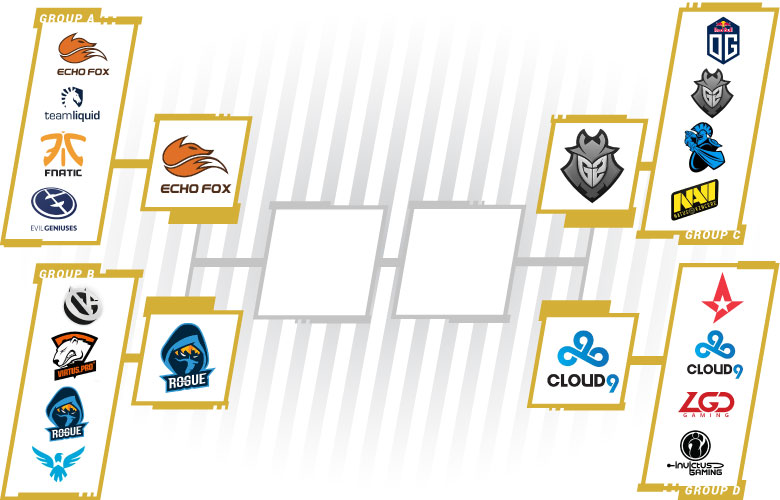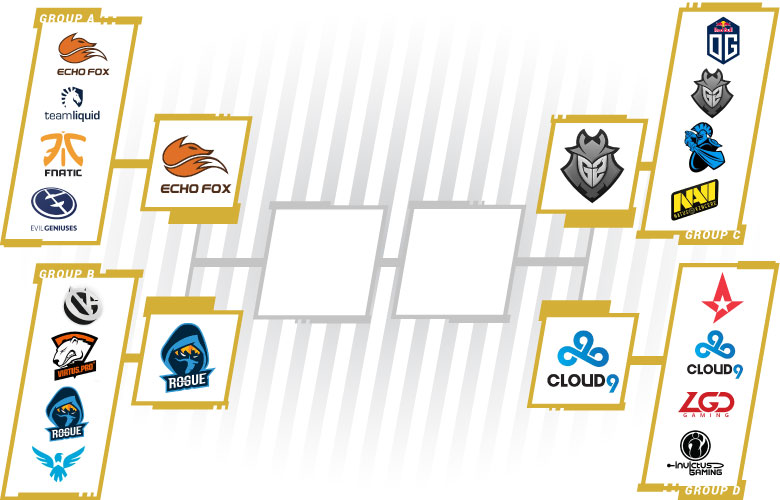 ---
Semi Final A
Echo Fox logo  VS.  Rogue logo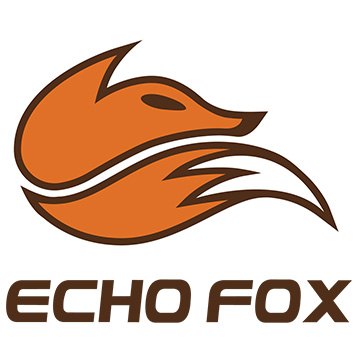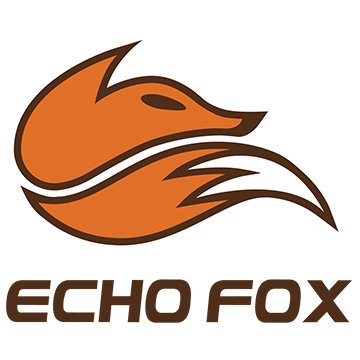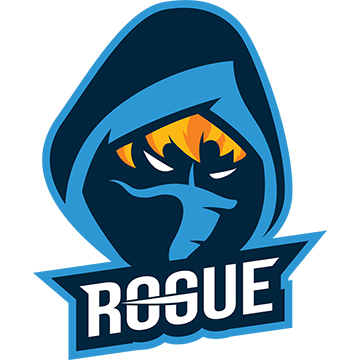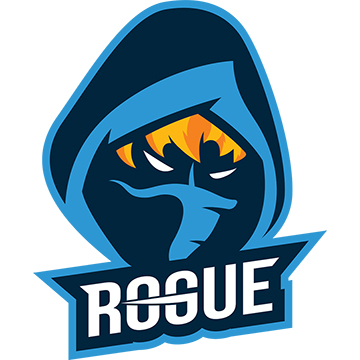 Game Highlights
Good artistry
+1 Echo Fox: The fox is well drawn and memorable.
+1 Rogue: The assassin is just as memorable, plus menacing.
Sense of movement
+1 Echo Fox: The fox logo moves up and to the right, where the fox is looking.
+1 Rogue: The assassin's glare, the linework of the illustration and the wordmark move to the right.
Novelty
+1 Echo Fox: There are other fox logos, but not like this.
+1 Rogue: Have you ever seen a logo like this? I didn't think so.
Wordmark
-1 Echo Fox: The words look separate from the icon, and static.
+1 Rogue: The wordmark is just as memorable as the icon, and they fit together.
Final Score
Echo Fox
3
Rogue

4
Winner!
Semi Final B
G2 eSports logo  VS.  Cloud 9 logo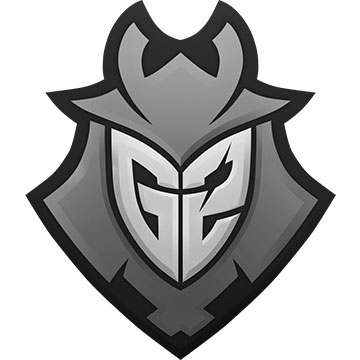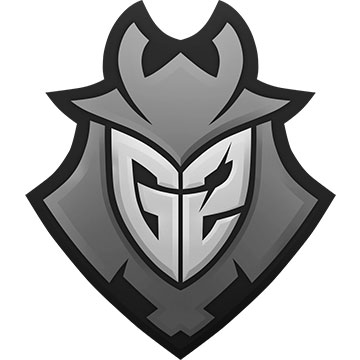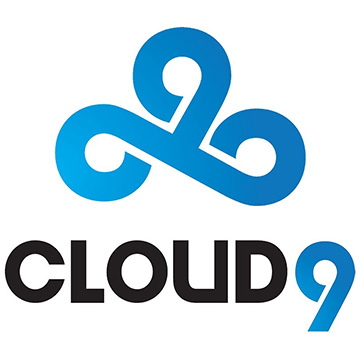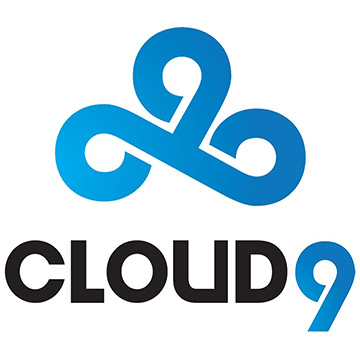 Game Highlights
Great concept
+1 G2 eSports: Cant beat a samurai, and the G2 facemask just works.
+1 Rogue: Could 9 works a cloud icon our of 9s. Awesome.
Punchy
+1 G2 eSports: The boldness of the line work makes this viewable from afar.
+1 Rogue: The simplicity of Cloud 9 gives it iconic-level status.
Risk-taking
+1 G2 eSports: Unexpected choices like the bottom cutouts keeps us on our toes.
+1 Rogue: The novelty of the cloud icon made of nines takes this to another level.
Sporting
+1 G2 eSports: The design choices and samurai character make this decidedly a sports logo.
-1 Cloud 9: This logo is probably more appropriate for a tech company than an eSports team.
Final Score
G2 eSports

4
Winner!
Cloud 9
3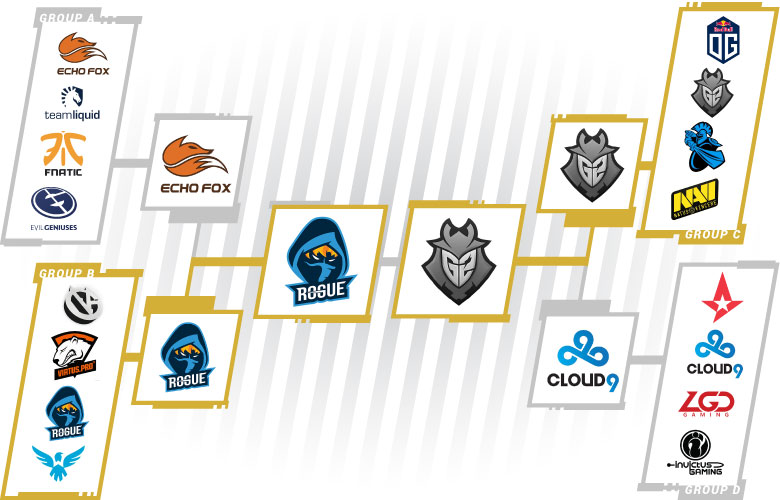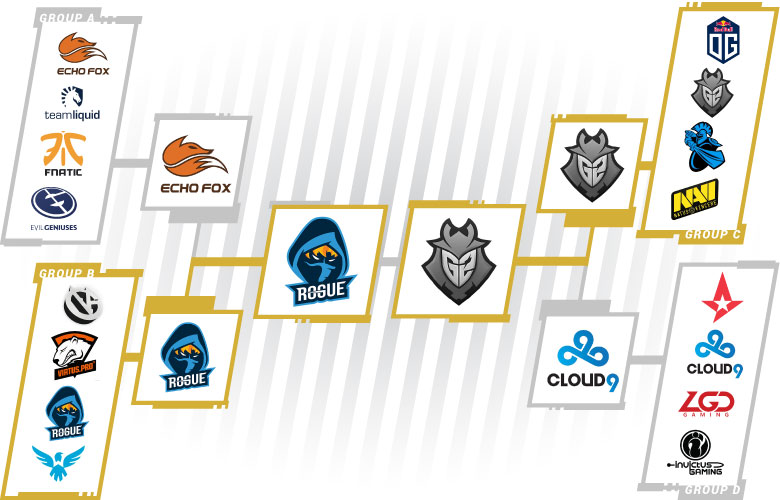 ---
Final
G2 Esports logo  VS.  Rogue logo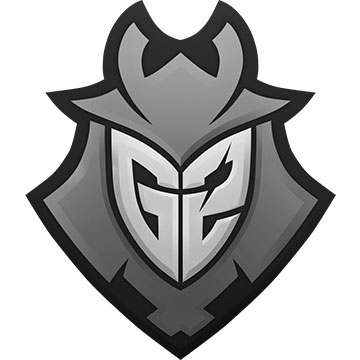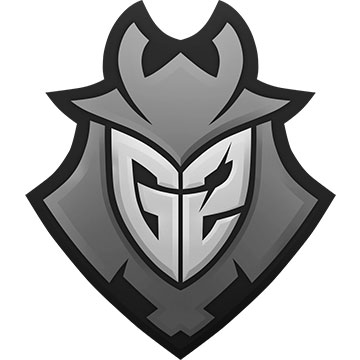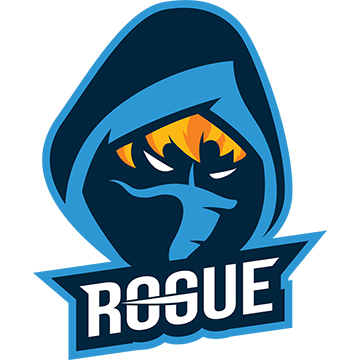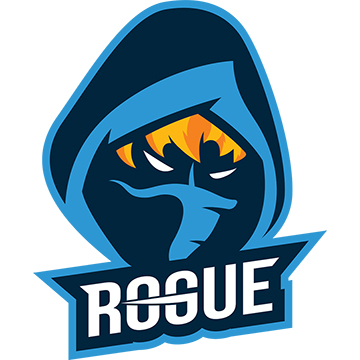 Game Highlights
Great linework
+1 G2 eSports: The bold outline and striking interior lines are all perfect
+1 Rogue: The logo uses shapes and line to come together so iconically.
Use of gradients.
+1 Rogue: While the uses 5 colors, their solid colors which will be good for embroidery.
-1 G2 eSports: The whole logo is a gradient! This will not print well on a jersey.
Final Score
G2 eSports
1
Rogue

2
Winner!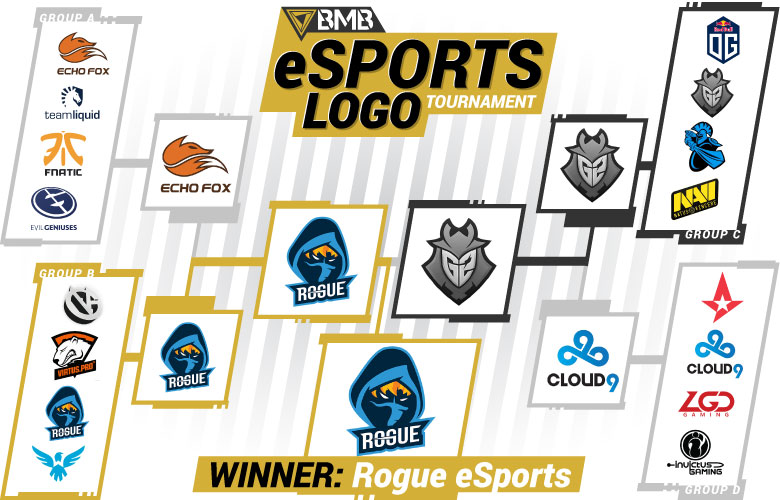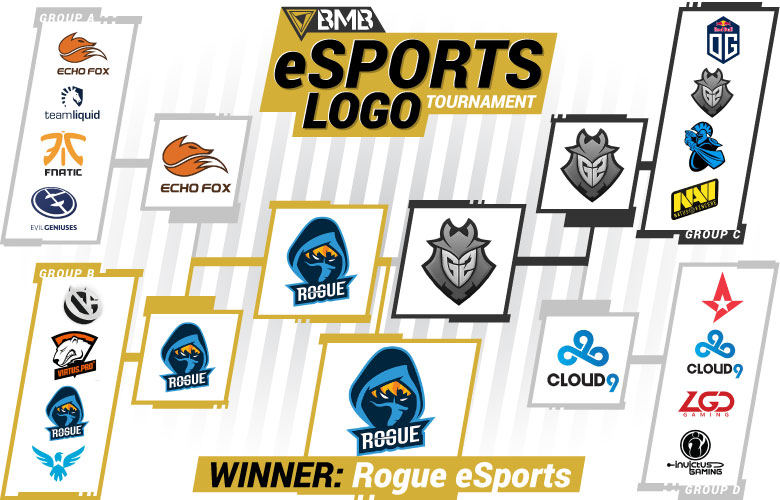 ---
Conclusion
What a ride! The winner of the first-ever BMB eSports Logo Tournament is Rogue. Congratulations! That is one strong logo.
What did we learn? There is no formula for a good sports logo, but there are aspects to consider if you want your sports logo design to be successful.
Sports logos must:
Have a strong concept
Be bold in their line work
Read from a distance
Have a strong color scheme
Not use gradients because of limitations in the embroidery and screen printing of apparel.
Take more creative risks than a corporate logo
Have a sense of movement
And be novel / different / exciting
Have fun in your gaming and logo design!
---
We wanted to practice what we had learned in the logo tournament, so we made up the eSports team "Strike Team" and designed a very cool logo for them. Learn how we designed an eSports team logo. 
---
Special thanks to Lyndsey Loiacono and Shannon Lewke for advising, and to Zoltan Andrejkovics
Managing Director of Docler, Author of esports book The Invisible Game
---
This article contains an Amazon Associate link. If you click this link and purchase a product, Colin Finkle receives a small fee from Amazon. This does not add anything to the cost of your purchase.