Arc'teryx's shared values with outdoor enthusiasts attract other niches and the broader market.
Executive Summary | Abstract | TL;DR

Arc'teryx's odd name and logo refer to the earliest known bird, which evolved wings to adapt to its hazardous environment. Arc'teryx uses an evolutionary design process to create outdoor apparel that helps their customers overcome hazardous environments. They want their customers to be thinking about the task at hand, not whether they are cold, wet, or uncomfortable. They also value sustainability.

Their authentic values are completely aligned with the values of the outdoor enthusiast community, of which the employees are a part of. Their values have also attracted the military and high-end urban markets.

They started in 1989 by making superior rock climbing harnesses and backpacks by applying (then) new lamination technology. They have since licensed Gore-tex and invented the WaterTight zipper, and built out an outdoor apparel line. The invented the Softshell, a new and hot selling product in the market. They connect with their customers through word of mouth, retail partners, and traditional media, and have added social media, original videos, and microsites in the last few years. They were purchased by Salomon in 2001.
---
PROMOTION
---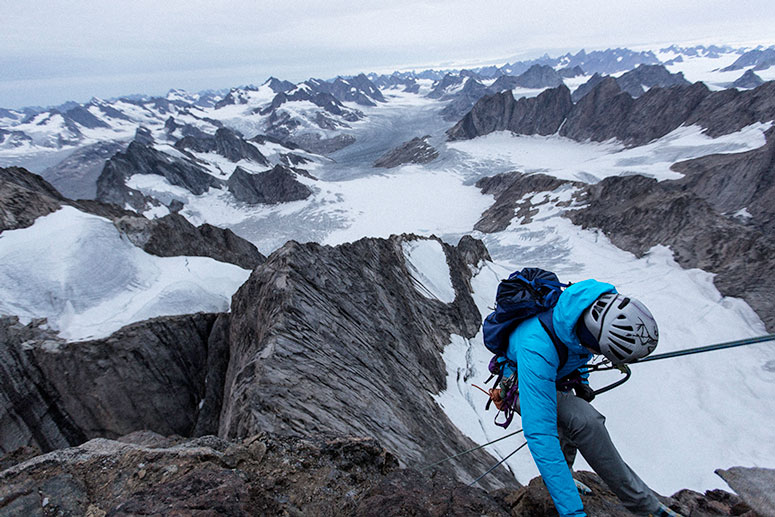 Arc'teryx is an oddly named company that is absolutely beloved by the people living outdoor adventurer and ski and snowboard lifestyles. The name of Arc'teryx refers to the Archaeopteryx, the earliest known bird in natural history. The logo is a representation of the first discovered fossil of this bird.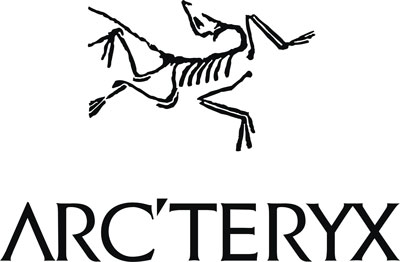 Stands out as much as their logo.
Arc'teryx's logo and name are unlike any other in the industry. The name is hard to pronounce and spell, and the logo is complicated, obscure and strange if you don't know the meaning behind it. But that is Arc'teryx. They are as different in the industry as their name and logo imply.
The other companies in the outdoor apparel industry zigs, and Arc'teryx zags. Other businesses in the market are looking trying to do less and less, and take more of the profit. Arc'teryx, on the other hand, is taking more and more ownership of their product's design and manufacturing so they can look their fellow outdoor enthusiasts in the eye and honestly say: "this is the best we can possibly deliver."
| | |
| --- | --- |
| Outdoor Apparel Industry | Arc'teryx |
| Flashy changes. | Itterative changes. |
| Innovates on fashion (patterns, cuts). | Innovates on details (zippers, stitching, seams, structure, etc.) |
| Outsources manufacturing to East Asia. | Onsite manufacturing in Canada. |
| Dictates designs to external production shops. | Collaborates on design with their production shop workers. |
---
PROMOTION
---
A mission to enable experiences.
"At Arc'teryx, the goal is to create equipment that enables a person to be immersed in the moment of doing, regardless of external conditions," they say on their website. They enable outdoor enthusiasts to concentrate on their current activity, not their physical condition. The idea is that, if you are rock climbing, the only thing you should be thinking about is rock climbing. You should not be thinking about how you are cold, you are wet, or your jacket's zipper has come undone, or you tore a seam, etc. Arc'teryx aims to "create a timeless, outdoor experience."
I personally understand this. I am not an outdoor enthusiast myself, but I married one. My wife once took me on a snowshoeing trip in northern Canada that we spent months training for. The environment was beautiful, but I could not fully enjoy it because my gear could not breathe to the extent that I had steam coming out my collar and condensing. I was soaked under my jacket.
This core value and all their values align with their climbers, hikers, and skiers so deeply because the employees are all those things. They use and wear all their own gear. The employees are part of the out door enthusiast culture, so their values are the values of their customers are exactly the same. They also do not want to put a faulty or poorly thought out product out into their own community.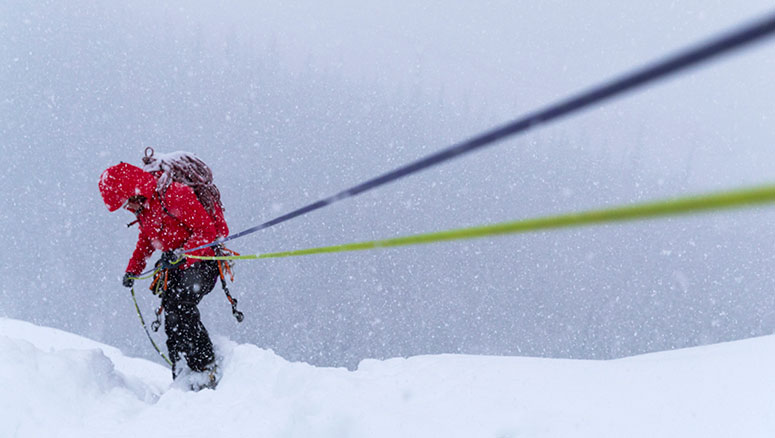 What do apparel design and 150 million-year-old bird have in common?
So Arc'teryx refers to the Archaeopteryx, but what does the earliest known bird have to do with rock climbing and hiking? The answers are evolution and adaptation. Archaeopteryx adapted to the challenges of its natural environment by evolving wings. Arc'teryx has an evolutionary, iterative approach to product design all in the attempt to overcome the challenges of the natural environment.
"Arc'teryx is driven with wanting the highest performing product possible to engage in the outdoor activities that we do, and an unwavering belief that there is always a better way," says Tanya Hall, Arc'teryx's Apparel Design Manager. "We begin by challenging design assumptions. Solving problems from a clean page gives us the freedom to think beyond current materials and construction."
Another value of both the employees and customers is sustainability. Outdoor enthusiasts are fiercely protective of the environment because it is their playground. Arc'teryx would honestly prefer to sell you one jacket that would last over a decade then sell you three jackets over that same time period, and fill up landfills
Have you heard the term "planned obsolescence." Yeah? Arc'teryx believes in the opposite of that.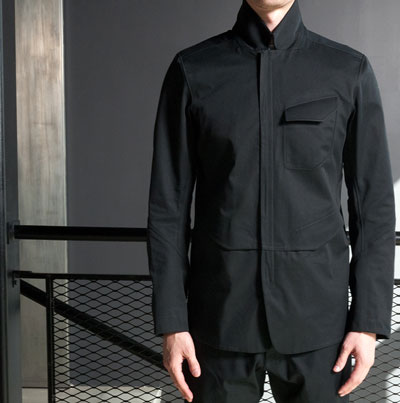 A niche market attracts a broader market.
This legendary durability and attention to detail have brought them to the attention of a circle wider than their community: the high-end market. The high-end urban shopper wants the best, and Arc'teryx is the only company that can look someone in the eye and say their product is the best. Arc'teryx Veilance, using the sub-brand relationship strategy, is tailored to the urban market. These buyers may never climb a mountain, but, much like pickup truck buyers, at least they know they have the capability to.
Founding days.
Arc'teryx was founded in 1989 in North Vancouver. Dave Lane started the company Rock Solid, but was joined by business associate the fellow, Jeremy Guard, who changed the name to Arc'teryx in 1992 to reflect their values.
Arc'teryx made premium quality rock climbing gear. The Vapor climbing harness became their top selling product based on new laminating technology superior to anything else on the market. They then released the Bora backpack based on the same technology. They relied on word-of-mouth advocacy supplemented by some offline advertising in the first eight years. The retailers of their product were also an important part of their promotion. Products won awards from magazines such as Backpacker, Outside, Climbing, Men's Journal, and Powder.
They eventually licensed GORE-TEX® fabric to create an outdoor apparel line. They invented WaterTight™ zippers, eliminated bulky and irritating flaps found on other jackets and snow pants. Arc'teryx worked with Polartec® to create the soft shell category. A "softshell" is a type of jacket made with knit or woven polyester and nylon fibers instead of the typical film materials we are used to seeing outerwear. This creates a jacket with all of the thermal insulation and most of the waterproofing of a traditional jacket with a lot more breath ability; the softshell gives people an option between a fleece sweater and a full coat. Something I could have used on my snowshoe adventure mentioned above.
---
PROMOTION
---
Aquisition.
The softshell was a big seller for them, and their success attracted acquisition buyers. Arc'teryx was purchased in 2001 by Salomon, which was then owned by Adidas. Solomon is one of the top brands in the ski and snowboard industry. Arc'teryx is currently owned by the Amer group, based out of Finland, who also own, Salomon, Suunto, Wilson, Atomic, Mavic and Envie. Arc'teryx entered the ski and snowboard market the same year with the Sidewinder Jacket.
Outdoor enthusiasts share values with soldiers.
Arc'teryx LEAF is a separate division, started in 2003, that makes military and law enforcement equipment. They are famous for supplying Bora backpacks to the US Navy Seals who were buying them from retail even before the formal relationship. Soldiers, outdoor enthusiasts, and Arc'teryx share that value of concentrating on the task at hand over their physical condition and the condition of their gear. Both markets demand bulletproof gear, although the soldiers mean that literally.
Retail or community center?
In 2006, Arc'teryx opened its first retail store in Montreal, Canada. They have grown to six locations in Canada, and other stores United States, Switzerland, France, UK, Japan, and China. They plan to expand by opening more doors in the US west coast. Their retail locations are designed to be a community gathering spot as much as a place of business. They also make it easy for customers to exercise their warranties at the physical locations, again, aligned with their value of sustainability.
Modern era
Arc'teryx significantly expanded their ski snowboard offering in 2010 with technical wear and base layers. Thay again reached out to new markets by starting a footwear line in 2015.
They have gotten more aggressive in their promotion by utilizing digital advertising and content creation for their market in later years. Their YouTube and Facebook pages are filled with videos that connect the brand to the community of outdoor enthusiasts. A short film they produced called WKND give even outsiders an appreciation of the lifestyle and values of the outdoor enthusiasts.

Takeaways
Arc'teryx embodies the power of lifestyle brands; a deep connection and share values with a very niche market can make you appealing to a much wider market and other markets you may have not thought of.
You can create as strong a brand as Arc'teryx if you have the same alignment of values with your customers as they do. The Arc'teryx brands growth is only attributable to their obsessive desire to fix the problems of the people in their market because their market is also their community. They are the core market. They hold the same values because the employees are the vanguard of users. They are designing for themselves, their friends and peers.
If your brand has strong values, you may find that those values align with the needs of markets you never thought about. Arc'teryx's value of quality and sustainability aligned with the high-end urban shopper. Their ambition of creating gear that allowed one to concentrate on the task at hand aligned with the military market.
They have also held their values higher than their business. They have bucked industry trends that would be good for their bottom line but bad for their customers. Their ascribed values are authentic in a market of sports companies licensing their logo to put on flashy jackets. Authentic values attract customers.
Granted, it is easy to be uncompromising of your values with a high price point. They design and produce an uncompromised product and price it accordingly, and their market has no problem with the price point. You might be easy to dismiss the lessons from Arc'teryx out of hand because you are in a market with pressures on price. But I would challenge you on how much of that pressure is perceived, and how much is real. If it is real, are you in the right market?
Pick a strong niche market, bonus points if you are part of that market yourself. Make sure your values and the values of your customer are completely in sync. You might just create a brand as strong as Arc'teryx.
Maybe skip the challenging name though…
---
PROMOTION
---
<<< Part 3: DC Shoes. | Part 4: What do Beats, DC and Arc'teryx Have in common? >>>
---
Sources:
"About Arc'teryx" on Arc'teryx
"Q&A with Tanya Hall from Arc'teryx" by Dave Casey for Paddy Palin
"Salomon To Acquire Arc'Teryx" on SNEWS
"Arc'Teryx a perfect fit for adidas' Salomon business" by Natasha Nowakowski for Portland Business Journal
"Behind the $675 Arc'teryx Jacket" by Jakob Schiller for Powder
"Arc'teryx: Pursue Perfection. (Case Study)" on Thrive Digital
Special thanks to Jo Salamon from Arc'teryx for fact checking this article.