Rhonda Merchant reduced hiring costs, time to fill, and turnover by improving Main Event's talent brand.
Rhonda Merchant is pioneering a new field: recruitment marketer. She is thinking about recruitment in a new way by borrowing frameworks from marketing and promotion to stir up stagnant practices in human resources. No department in large organizations has been more disrupted recently than human resources, and HR professionals have to be more adaptable than ever.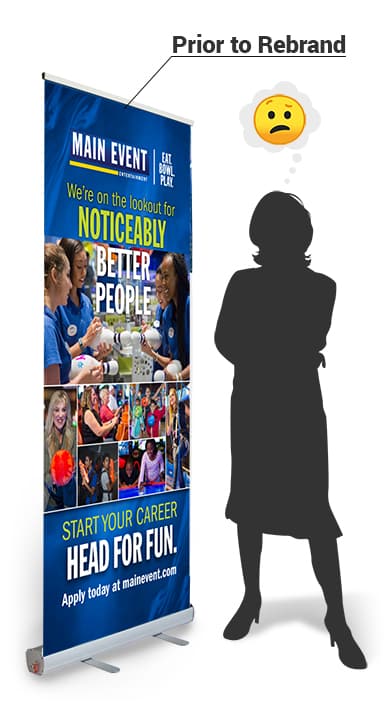 Rhonda joined Main Event in May of 2016. Main Event is a chain of entertainment centers that enable small groups to have fun together by bowling, playing laser tag, jumping on a trampoline, etc. Families and colleagues love the brand, and they are aggressively growing from a regional player to a national brand.
However, Main Event's poor positioning with their talent brand was getting in the way of their growth. Banners that read "We're on the lookout for noticeably better people" were making it harder to staff new locations, and made current staff uncomfortable.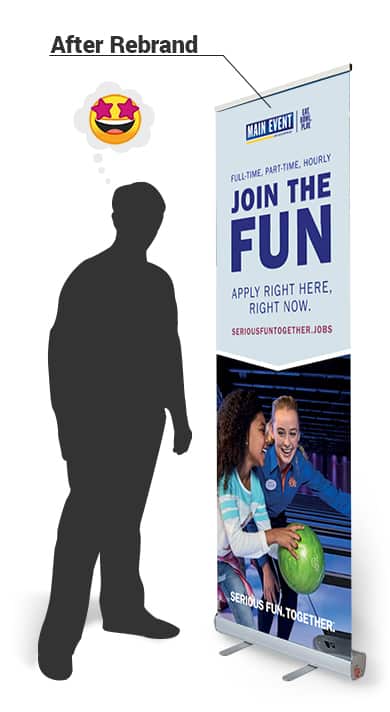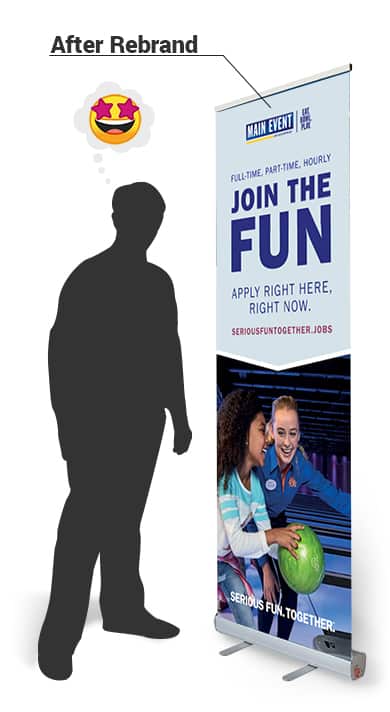 Main Event is always trying to build brand awareness in new markets, both for their consumer brand and talent brand. The advertising for new employees preceded the promotion for customers, naturally because they needed to staff the centers before they could provide service. So a new market such as Colorado would have their first introduction to Main Event with ads for job openings. The employment brand needed to be on point.
Main Event was going through a rebranding to improve their consumer message. Where some HR professionals would have concluded that this would have sucked all the air out of the room, Rhonda tagged along. She convinced her colleagues in marketing that the consumer brand and the talent brand are two sides of the same coin.
Rhonda joined meetings and shared external resources with marketing to make sure the whole brand was cohesive. For example, her friends in marketing arranged the photo shoot for the images required for the Main Event career site. That career site was so compelling that the consumer site was redesigned to match the design.
All this effort wasn't just for aesthetics; it was improving the business. Rhonda reduced Main Event's hiring costs and is filling open positions faster. Everything looks as if turnover is reducing as well.
I connected with Rhonda through Jody Ordioni, who wrote the book on talent branding – the next generation of employment branding. Listen to Rhonda explain her journey, and maybe you can achieve similar results for your organization.
---
PROMOTION
---
Interview with Rhonda Merchant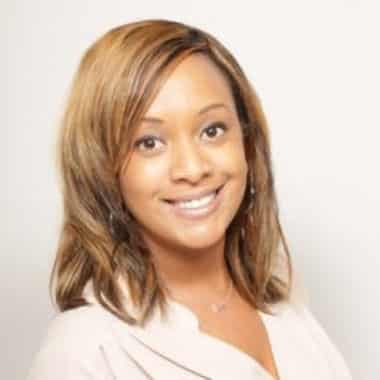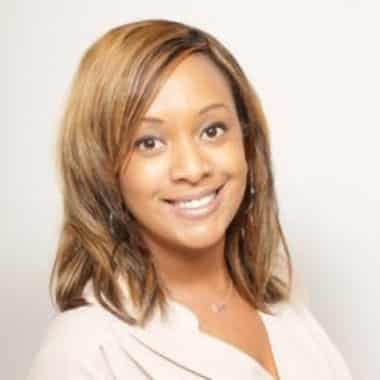 Colin Finkle: What is your definition of the term "brand?"
Rhonda Merchant: A brand is something that people resonate with. Whether it be good or bad, it's a feeling you get when you think about a product, company or even a person.
Colin Finkle: What is your background?
Rhonda Merchant: My background is in human resources. I have over 19 years of experience in talent acquisition across a multitude of industries which include Hospitality, consumer packaged goods, financial services and retail. After spending so much time in the employment branding space over the last few years, I now consider myself to be a recruitment marketer.
Colin Finkle: I have never heard of a recruitment marketer. Is this a new discipline? Or a new way of thinking about recruiting?
Rhonda Merchant: Exactly, It's a new way of thinking as a talent acquisition professional. Traditionally marketing has not been part of the recruiting process, so talent acquisition professionals were not using marketing tactics. However, long gone are the days where the consumer message only targets the consumer.
With the maturity of social media, the lines have blurred, consumer messaging is now the message that shapes the perception of the brand, not only from the consumer standpoint but the applicant as well. This change has forced talent acquisition professionals to think outside of the traditional recruiting advertising methods. We must think like marketers, and we need a seat at the table when marketing starts to think about branding work to ensure that the employment branding message is one that reflects the authentic culture of the organization.
Colin Finkle: What brought you to your role at Main Event?
Rhonda Merchant: When Main Event approached me about joining the team, I was intrigued by the entertainment concept. It was an exciting time in the evolution of the brand as they had just started to build centers outside of Texas and was on a track to become a National brand opening multiple centers across the country. At the time the goal was to double the number of event centers from 20 to 40 (which we've done over the last three years), and to do this I knew I needed to develop a sound and scalable strategy. I also knew that I needed to build a top performing talent acquisition team that could fulfill the human capital needs of the business. This challenge was perfect for me because I have a passion for identifying and solving complex business problems by developing strategies and following through with flawless execution. Little did I know that I would have so much fun doing it!
Colin Finkle: What was Main Event's talent brand like before the rebranding?
Rhonda Merchant: Before the branding initiative Main Event had little to no name recognition outside of the state of Texas. We were struggling to open up new centers fully staffed and often lost candidates during the process once they understood who we were. You would be shocked at some of the things I heard as people were figuring out "what is Main Event." This insight and struggle are what created the need for this project. I knew that as we continued to expand we had to start looking at things differently and invest in tools to help us differentiate ourselves and answer the question, "what is Main Event."
Colin Finkle: How would you characterize Main Event's talent brand? How were they presenting themselves to candidates, new hires and long term staff?
Rhonda Merchant: Our talent brand position is 'Serious Fun. Together.' We strive to create fun and memorable moments for our guests and team members by focusing on what makes us unique. We have five workplace values, and they dictate everything we do; Act with Integrity, Exceed Guest Expectations, Run It Like You Own It, Embrace Teamwork and Have fun!
Colin Finkle: It sounds like you are trying to attract employees who value having fun while working. Main Event's product will improve because guests will have more fun if the employees are also fun-loving.
Rhonda Merchant: Yes, that is correct. Our goal is to create memorable moments for our guests and to do that we have to be passionate about the guest experience. It has to be genuine, and our managers and team members need to have fun while creating these moments! But it's also serious and very important.
Colin Finkle: How is this new talent brand image working for Main Event?
Rhonda Merchant: Our consumer re-branding, as well as the employment branding initiate, was launched about a year ago and over that time we've seen a drastic uptick in applications and overall interest in the brand. Our investment in technology and collateral to communicate our employment brand has worked wonders for our brand awareness as we enter into new markets.
We've launched job profile videos that provide a "day in the life" overview of key field positions. We created our first recruitment sizzle video which highlighted the uniqueness of our environment and placed it in a prime location on our careers page. We also feature our team members from the field locations and Support Center on the culture tab of our webpage. If you want to know what "Serious Fun. Together." is all about, check us out at https://www.seriousfuntogether.jobs/
---
PROMOTION
---
Colin Finkle: Did the rebranding help you reduce your time to fill?
Rhonda Merchant: Yes, our Time to Fill (TTF) has drastically reduced. Before the rebranding efforts, our TTF was in the 60-day range for non-management hires and over 90 days for management positions. Now our TTF for non-management roles have been cut in half, and our average TTF for management positions is in the 33-day range which is below the industry best practice of 36 days.
Colin Finkle: Has your average cost per hire gone down?
Rhonda Merchant: 3 years ago our cost per hire was an astonishing $500 per hire, now our cost per hire is in the $60-$100 range, and that's inclusive of hourly and management hires.
Colin Finkle: Do you feel you are getting a better quality of candidate now that you are better positioning Main Event?
Rhonda Merchant: Absolutely! Now candidates know who we are and what we do. Please understand that I'm not saying that all of our recognition issues are a thing of the past; we still have a way to go for that. However, I am saying that as we start recruiting in new markets (i.e., Baton Rouge) for those candidates who aren't aware of Main Event we now have the tools to educate them on who we are even when they have never experienced our centers.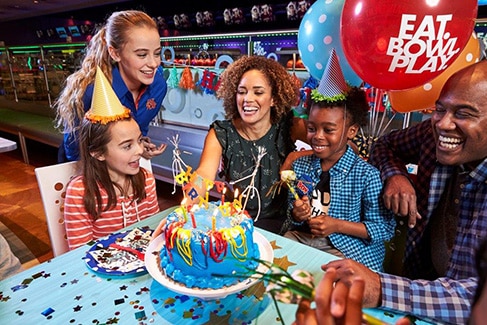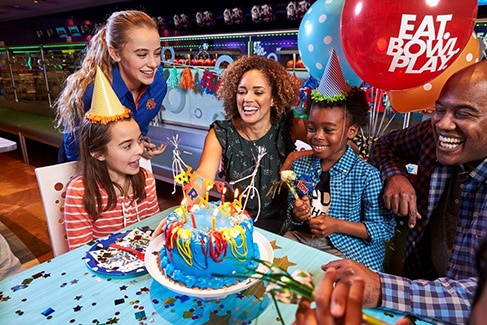 Colin Finkle: Has the culture improved? Do you imagine your changes will reduce turnover?
Rhonda Merchant: The culture has improved but we are still working on lowering our turnover, part of that stems from the industry we are in (Restaurant and Hospitality) which have much higher turnover ratios than other industries. For the second year in a row hospitality turnover has hovered in the 70% range. When you consider those stats along with the makeup of our employee population, which is 90% non-management employees you are bound to have higher turnover.
Colin Finkle: If an HR pro is having trouble hiring quality people, on time and budget, then polishing up their organization's talent brand may be a solution. Where should someone start?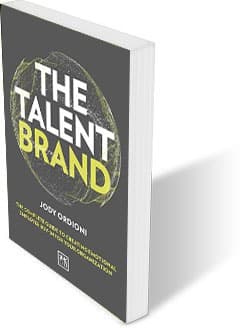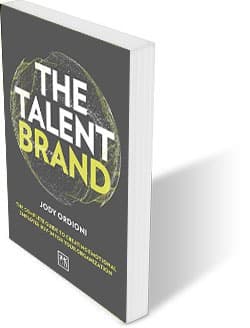 Rhonda Merchant: The biggest mistake one can make is thinking that they can handle this type of project on their own. Most organizations do not have the infrastructure needed for the talent acquisition team to manage their responsibilities while taking on such a vast project.
I would start by researching employment branding firms and reading books by subject matter experts. I read The Talent Brand by Jody Ordioni, and it completely changed my thought process and idea on how I should tackle the employment and awareness issue we were experiencing. After receiving a stellar recommendation from a previous Brandemix client and reaching out to Jody to hear more about her philosophy and how she approaches each client to better understand their needs I knew Jody and Brandemix would make the perfect partners for Main Event!
Colin Finkle: What other advice would you have for a fellow recruitment marketer, a business owner to that's fighting the good fight?
Rhonda Merchant: For enterprise clients, push to break down silos. You'll need senior sponsorship along with help from marketing, advertising, and corporate communications.
For the small business entrepreneur, great news. The internet has leveled the playing field, and you can find a way to promote your culture and compete with the top competitors in your space. If people are essential to the success of your business, then applying the same diligence and rigor to the project as you would to your business plan will be critical to your success.
For everyone — Keep fighting! Don't give up! Those of us who have been in talent acquisition for any period of time have heard about the 'war on talent.' Well, the war is here, and we are in it so we must keep moving forward and keep being innovative. Figure out who your target employee is and learn everything you can about what motivates them, once you have that information, target it and make sure everything you are doing is keeping that employee in mind while staying true to who you are as an organization and a workplace.
Colin Finkle: If someone wants to follow you or connect, where should they go?
Rhonda Merchant: I'm happy to be a resource to others on this journey and the best place to find me is on Linkedin at Rhonda Merchant.
---
PROMOTION
---