Expertise, Authoritativeness, and Trustworthiness are feelings you want to inspire with the About Page on your website.
Do you wish you could get more traffic to your website from Google searches? A low E-A-T score is a common barrier that keeps sites from appearing on Google searches with high volume. Google values it's searchers, and will not send them to disreputable websites. Highlighting your expertise and sharing your personality on a well-written About Page can increase your E-A-T and bring you more traffic.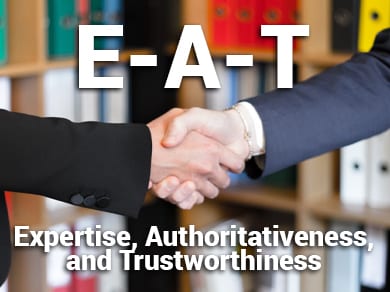 What exactly is E-A-T for SEO? E-A-T is an acronym for Expertise, Authoritativeness, and Trustworthiness. The E-A-T score for a website can affect how high it's pages are placed on results pages for searches on Google.
Recently, Google has been holding sites that fall into the category of YMYL — Your Money Your Life — to strict guidelines if they want to rank high in search engine results.
As nearly any business covers money or lifestyle, you might want to hold your website to the same standards. Worst case scenario: you look more trustworthy to your potential customers.
Is there a way to improve your E-A-T score? Google doesn't share it's internal rankings domains in this area. Google employs human checkers, and they call them search quality raters.
Google does not employ enough search quality checkers to review all common search queries. But, remember that machines are getting smarter and so are algorithms. Every time a human quality checker makes a determination, Google algorithms get better and can apply the logic to tens of thousands of other sites.
As computers get better at natural language processing and how to reason, they'll be better able to pick up the nuances on websites and rank them according to their value to users.
Your About Page allows you to establish yourself as an authority — the Page demonstrates that you know what you're talking about and can be trusted.
Here are some tips for writing an about page that will perform well based on E-A-T:
Include Staff Names and Bios
Show Off Your Personality
Find Your Buzzwords
Focus on Personal Branding
Explain Your Process
Use Strong Words
Explain Jargon
We go into all of these tips below. Hopefully we can establish our expertise, authority and trust while teaching you to do the same.
---
PROMOTION
---
Tips For Writing An About Page To Establish E-A-T
Include Staff Names and Bios
One way of establishing both authority and trust is to feature the people within your company.
You likely have some skilled experts on your team. Highlight who they are and what they bring to the table. Include details such as how many years of experience they have, degrees, and specialized training.
Google wants to know who the author of the content is on your site is real (i.e., not a bot or an alias) and reputable. Having their bio on the about page is a good start to establishing who the writer is.
Breyer Construction & Landscape splits up their About info into categories that cover the primary elements of establishing expertise and trust. Note how the drop-down menu includes a "Meet the Team" section.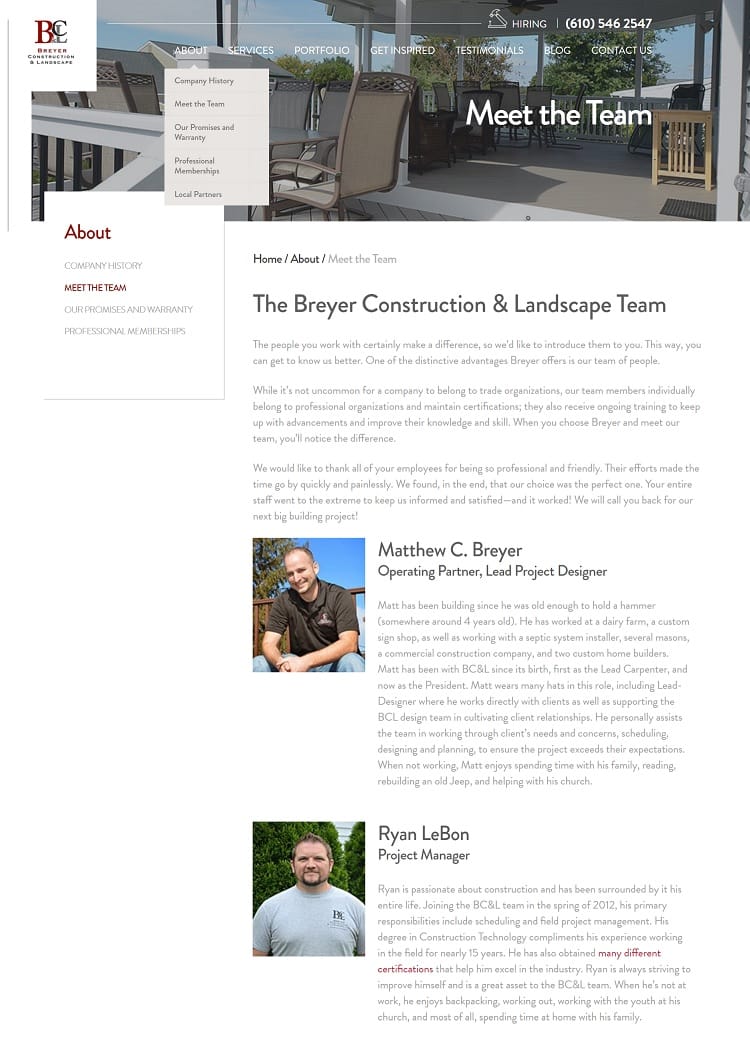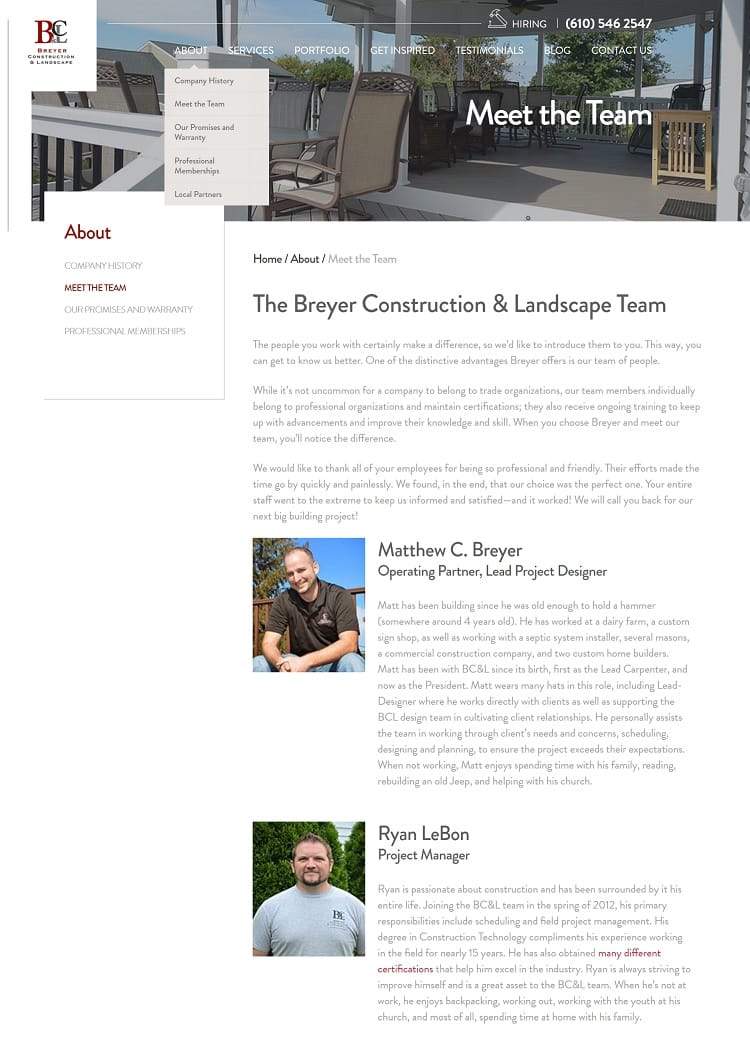 Each person's name, photo, and knowledge area is listed on Bryer's About Page. As a result, you instantly get a sense that this team knows how to do big landscaping projects.
Show Off Your Personality
You have to know who you are as a company to write an effective about Page. How of your brand personality.
What is your unique brand personality and culture? How can you write in a way that connects with your target audience while staying true to your character?
A big part of effectively marketing your business is remaining consistent. If a user encounters you on your website, they should get the same message as if they met you in person or visited your social media pages.
---
PROMOTION
---
Find Your Buzzwords
What are some keywords they're most likely using when people search for information on your industry?
For example, if you sell landscape services, they might search for terms such as "reliable landscapers," "experienced yard work," or "landscape designs." You need to dig deeper here, though, and tap into the qualities someone in your industry should have.
If you aren't sure what qualities are essential to your customers, then send out a poll and ask them to describe you in concrete words. Offer a list of options for them to choose from. You can also use this feedback to improve the way you do business or shore up weaknesses in your company.
Envision Radiology does an excellent job of hitting on the words users are most likely to look for.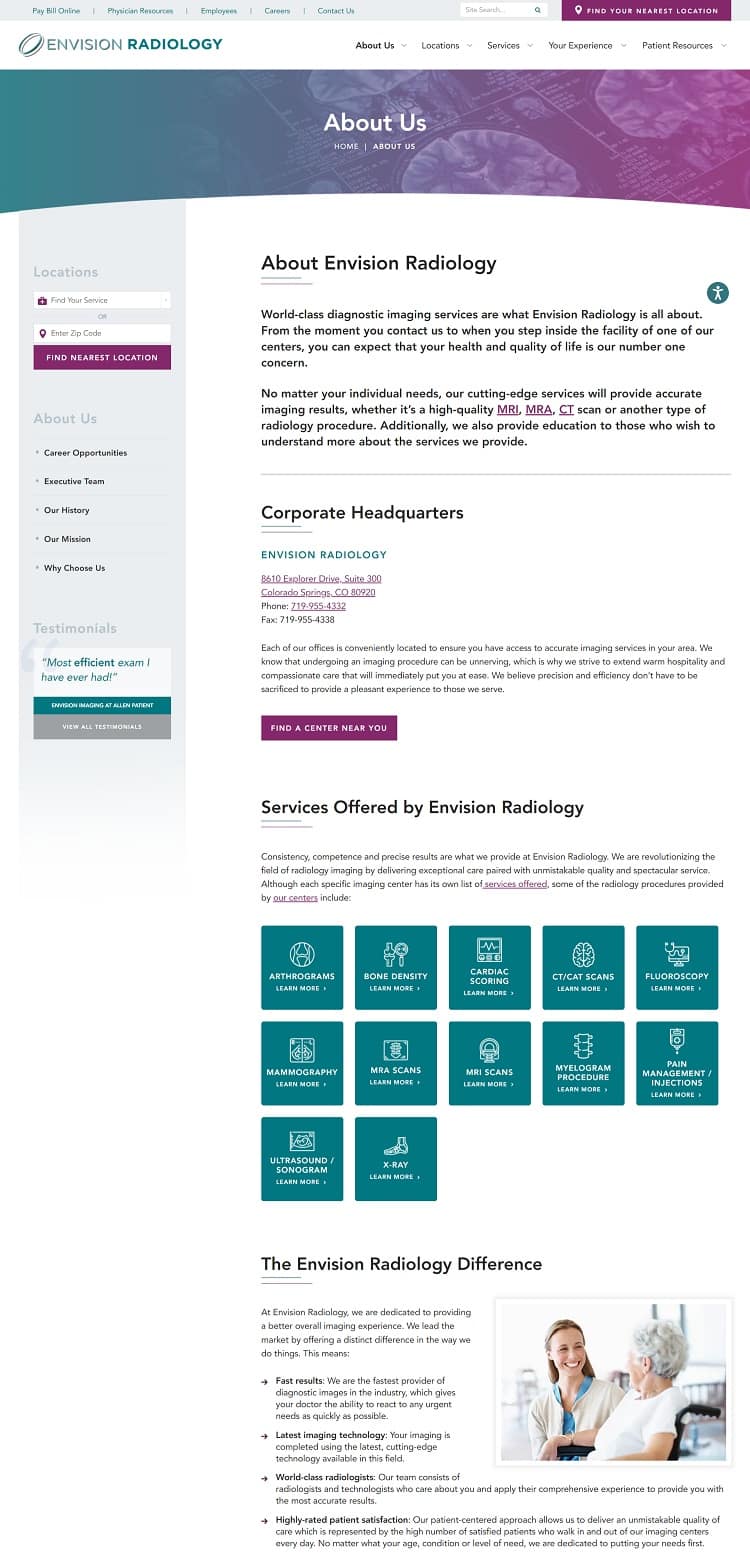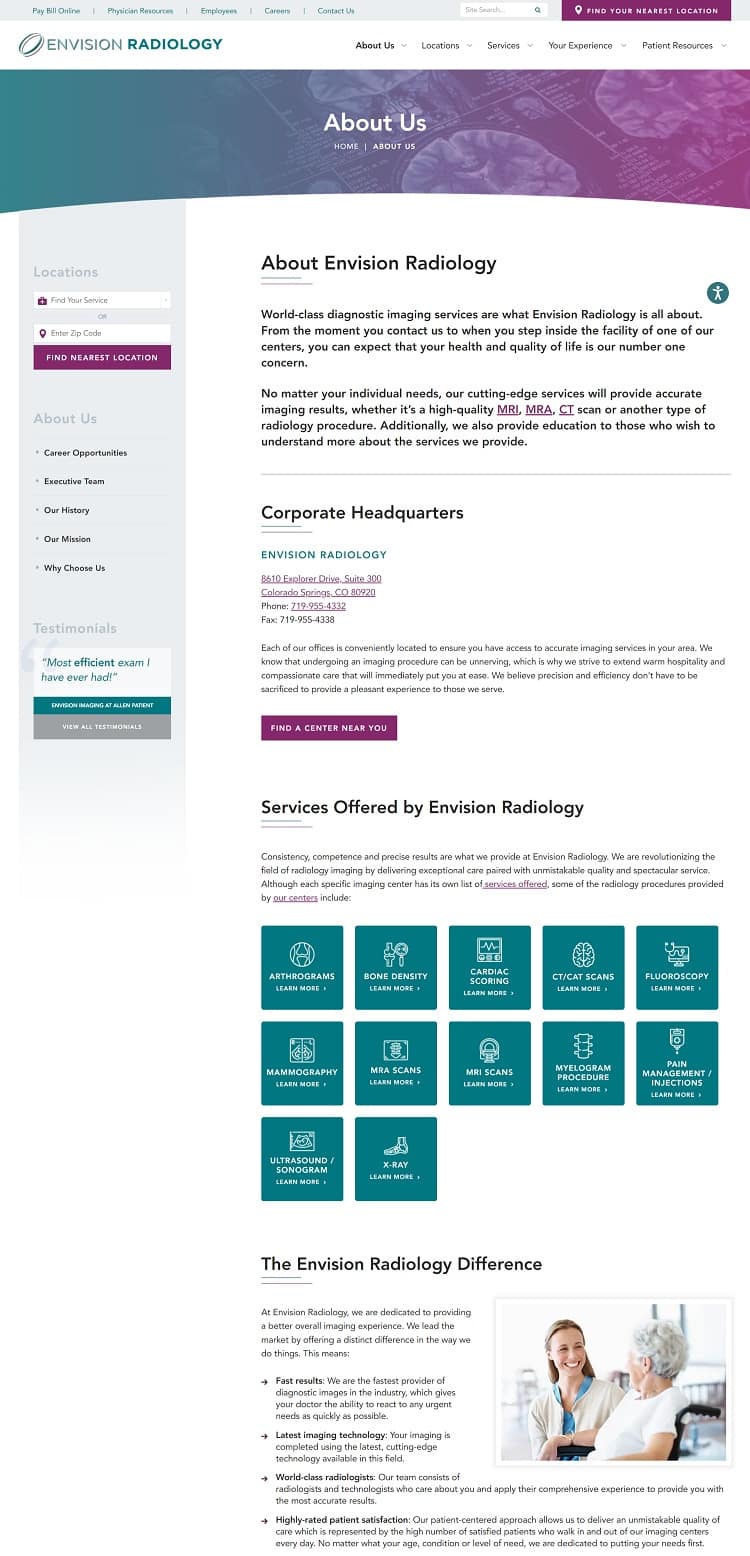 Since the company revolves around health, words such as "consistency," "precision," and "competence" all appear. They also focus on the things people undergoing radiology would typically think about, such as fast results, the latest technology, and world-class doctors.
Focus on Personal Branding
Leverage the personal brands of the employees on your team. Link to other places where you can find them on the web: personal websites, portfolios, social media, etc. They will appear like genuine and well-rounded people to both potential customers and the Google algorithm.
Even though Google's raters are supposed to understand the difference between small businesses and big corporations, a lack of reviews and online mentions of the company, and its people can hurt your overall performance. Such companies appear "scammy."
You won't be considered as a serious player if people can't find a mention of your business or it's people anywhere. Invest in social media campaigns, provide free articles to reputable sites on your topic, and establish your employees as experts in their respective fields.
---
PROMOTION
---
Explain Your Process
E-commerce sites, in particular, need to outline a clear indication of how the process works. Your method might relate to the craftsmanship of your products, or it could be in the speed of your shipping.
Establishing authenticity always starts with transparency. If your company, it's people, and it's processes are a black box, then customers will be skittish, and Google will be reluctant to send you their users. Being an expert doesn't mean keeping your expertise secret. You have to demonstrate that you know what you are doing.
Share your process and highlight where the customer fits in. Show your site visitors why they should order from you over one of your competitors. The more upfront you are, the higher your trust factor.
Transparency was one of the winning factors we found when we looked into the success of Beyond Meat. Beyond Meat was able to invite press and customers to tour their facility, which traditional meat processors like Maple Leaf and Tyson were not able to do that due to the gory nature of their business. Read more about Beyond Meat in our brand profile of the animal-free meat company.
Yellow Leaf Hammocks uses their About page to show why the craftsmanship of their products is superior to competitors.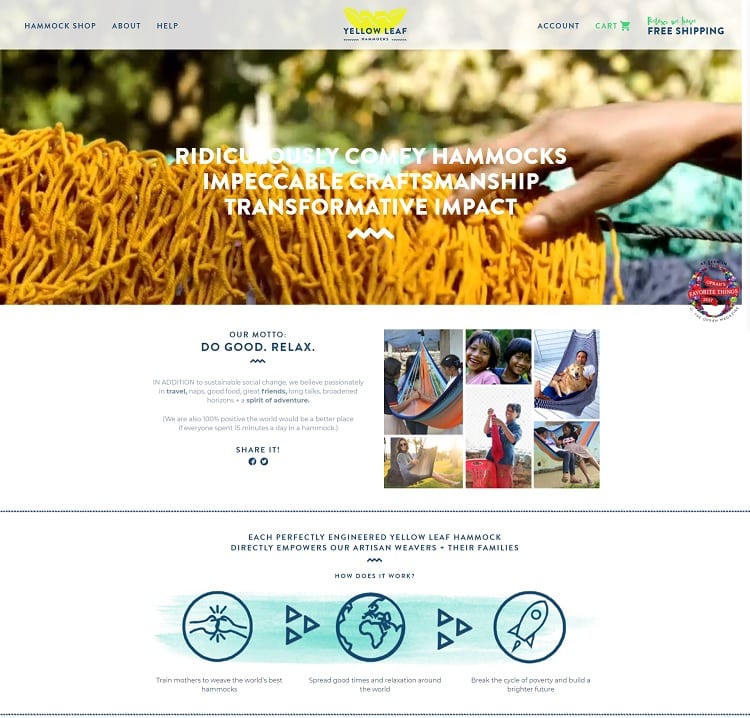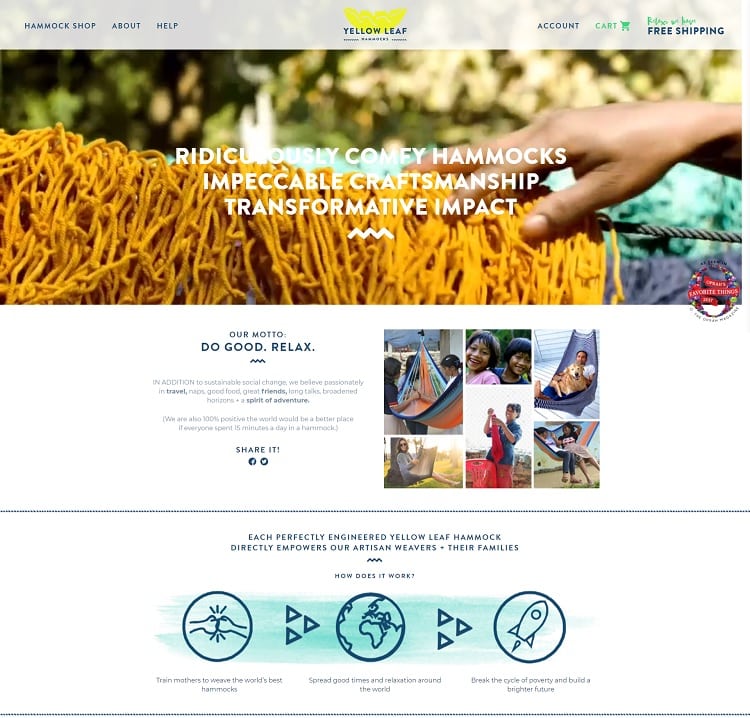 Yellow Leaf streams videos of the artisans in Thailand weaving hammocks. They also share the process, from training the crafters to developing a finished item. The details and transparency add to the trust score.
Use Strong Words
If you want to appear authoritative, then the words you use matter.
Read your About Page over and over and see what words you can replace with more concrete options.
What are the power phrases in your industry? How do those words signal you're an expert the user should listen to?
Get rid of weak phrasing. Look for terms such as "consider" or "perhaps" and eliminate them from your vocabulary.
---
PROMOTION
---
Explain Jargon
It is not a mistake to use industry terminology on your about page, but not explaining the terms to a lay audience is an error.
Think of the experts your see featured on TV; the people on news broadcasts, morning shows, and talk shows. They use industry terms where appropriate and explain them clearly and succinctly to regular folk. The audience gets to learn, and the expert appears to understand the topic so well that they can explain it to anyone.
Take a similar approach to your About Page as experts do when an interview. Use proper terminology, but explain that terminology as you go. Your potential customers will learn, and your brand will be associated with industry expertise.
Conclusion. E-A-T Shows You How to Help Users.
Every website needs a purpose, and it somehow needs to tap into the ways you offer assistance to users. For some sites, the value is evident in the information they share, such as photos of employees, biographies, videos of the production process, and much more.
Other sites, however, require a bit more digging to unveil the purpose. Your About page sets the tone for the rest of your website.
If you want to tap into Google's desire for pages that meet the E-A-T standards, start by focusing on this Page and improving the rest of your site from there. Remember, no matter where you post — your website, social media, etc. — your voice, tone, and wording needs to remain consistent and helpful.
---
PROMOTION
---
---
Lexie is a branding enthusiast and web designer. She loves checking out local flea markets and taking her Goldendoodle on hikes. Follow her on Twitter @lexieludesigner and check out her design blog, Design Roast.