"The Ultimate Driving Machine" to "Finger Lickin' Good." Here are the taglines of the top companies in the world.
A couple of readers were asking for guidance on taglines. Frankly, I don't know much about slogans or taglines; I have worked for over a decade helping big brands with their retail marketing, and taglines are typically used in advertising.
An exhaustive look into what brands are doing in 2020 would be a great place to start to learn about state of the art in taglines. So I compiled a list of all the slogans brands are currently using in their advertisements.
Note that I am researching from the American / Canadian market and may vary by region. So if you are in another country and something does not sound familiar, then the brand may have a different regional strategy.
What is a tagline? A tagline is a 2-word to 8-word phrase shown before, after, or beside the brand at the end of an advertisement. The marketers behind a tagline intend to leave the viewer with a memorable version of the brand's message and speak to their value, personality, or differentiator.
Let's not bury the lead. Here are the current taglines for the top 100 brands as per Interbrand's list of brands with the highest brand equity.
---
PROMOTION
---
Top 100 Brands' Taglines
| | |
| --- | --- |
| Brand | Tagline |
| 3M | Science. Applied to Life. |
| Accenture | Let There Be Change |
| Adidas | Nothing is Impossible |
| Adobe | N/A – Uses different taglines for each of their sub-brands. |
| Allianz | We Cover Courage |
| Amazon | Irrisitable. Delivered. |
| American Express | Don't Live Life Without It. |
| Apple | N/A – Does not use a tagline. |
| Audi | Vorsprung durch technik (Global), Truth In Engineering (US) |
| AXA | Know You Can |
| Banco Santander | Respect Ads Up |
| BMW | The Ultimate Driving Machine |
| Budweiser | This Bud's For You |
| Burberry | London England |
| Canon | Delighting You Always |
| Cartier | The art of being unique |
| Caterpillar | Let's Do The Work |
| Chanel | N/A – Does not use a tagline. |
| Cisco | The Bridge To Possible |
| Citi | Welcome What's Next |
| Coca-Cola | Open Happiness |
| Colgate | Antibacterial Protection for a Healthier Mouth (Colgate Total) |
| Corona | Find Your Beach (Corona Hard Seltzer) |
| Danone | N/A – Does not use a tagline. |
| Dell | Every Little Thing Is Everything |
| DHL | Excellence. Simply Delivered. |
| Dior | N/A – Does not use a tagline. |
| Discovery | Explore Your World |
| Disney | The happiest place on earth. (Disneyland) |
| eBay | Buy it. Sell it. Love it. |
| Facebook | More together |
| FedEx | Opportunity / Strength / Miracles. What We Deliver By Delivering |
| Ferrari | N/A – Does not use a tagline. |
| Ford | Go Further |
| General Electric (GE) | Good Things, for Life. |
| Gillette | The Best A Man Can Get |
| Goldman Sachs | You Can Money (Marcus by Goldman Sachs) |
| Google | With A Little Help From Google |
| Gucci | N/A – Does not use a tagline. |
| H&M | N/A – Does not use a tagline. |
| Harley-Davidson | Screw it, let's ride. |
| Heineken | Open Your World |
| Hennessy | Never Stop. Never Settle. Since 1765. |
| Hermès | N/A – Does not use a tagline. |
| Hewlett Packard Enterprise | Accelerating Next |
| Honda | From Honda |
| HP | Keep Reinventing |
| HSBC | Together We Thrive |
| Huawei | "It's In Your Hands", "Rewrite Possibilities", or "Reinvent Photography" |
| Hyundai | Better Drives Us |
| IBM | Let's Put Smart to Work |
| IKEA | N/A – Does not use a tagline. |
| Intel | Experience What's Inside |
| J.P. Morgan | Make More of What's Yours |
| Jack Daniel's | What the Label Doesn't Tell You, a Sip Will |
| John Deere | Nothing Runs Like a Deere |
| Johnson & Johnson | So Much More (Johnson's Baby) |
| Kellogg's | N/A – Does not use a tagline. |
| KFC | It's Finger Lickin' Good |
| Kia | Give It Everything |
| L'Oréal Paris | Because You're Worth It |
| Land Rover | Above & Beyond |
| LEGO | N/A – Does not use a tagline. |
| LinkedIn | We're In It Together |
| Louis Vuitton | N/A – Does not use a tagline. |
| Mastercard | Start Something Priceless |
| McDonald's | I'm Lovin' It (Previous) |
| Mercedes-Benz | The Best or Nothing |
| Microsoft | Empowering Us All |
| MINI | Born To Drive |
| Morgan Stanley | We Are Morgan Stanley |
| NESCAFÉ | It All Starts With a NESCAFÉ |
| Nestlé | Various Taglines. "Water Is Our Life's Work" (Nestle Waters), "Make, Bake Love" (Toll House) |
| Netflix | N/A – Does not use a tagline. |
| Nike | "Just Do It" and "Sport Changes Everything" |
| Nintendo | "My Way To Play" and "Our Way To Play" (Nintendo Switch) |
| Nissan | Innovation That Excites |
| Oracle | N/A – Does not use a tagline. |
| Pampers | Love The Change |
| Panasonic | A Better Life, a Better World |
| PayPal | PayPal Is New Money |
| Pepsi | That's What I Like |
| Philips | Innovation and You |
| Porsche | N/A – Does not use a tagline. |
| Prada | N/A – Does not use a tagline. |
| Salesforce.com | We Bring Companies and Customers Together |
| Samsung | Samsung — "Inspire the World, Create the Future" |
| SAP | N/A – Does not use a tagline. |
| Shell | It's Fuel for Thought (Shell V-Power) |
| Siemens | Ingenuity for Life |
| Sony | N/A – Does not use a tagline. |
| Spotify | Free on Spotify |
| Starbucks | N/A – Does not use a tagline. |
| Tiffany & Co. | "Believe in Dreams" and "Believe in Love" |
| Toyota | Let's Go Places |
| Uber | Doors Are Always Opening |
| UPS | Every ing for Small Business. And of Course, Shipping. |
| Visa | Everywhere You Want to Be |
| Volkswagen | Drive Bigger |
| Zara | N/A – Does not use a tagline. |
---
PROMOTION
---
How do top brands use taglines? It varies.
Most brands use it as a final attempt to align the brand with the emotional values of the customer. For example, Harley Davidson's current tagline, "Screw It, Let's Ride" speaks to the emotions rebellious motorcycle riders feel when they take their bikes out.
Many brands use their taglines as an opportunity to build or reinforce a brand association. Some examples are Seimens "Ingenuity for Life" and Philips "Innovation and You." Both brands are trying to create mental links between their brand and the idea of innovation.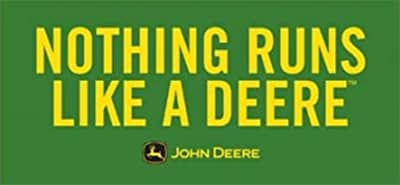 Some brands use it to remind customers of their size and scale. For example, the customer wonders if there is any other viable option when John Deere says: "Nothing Runs Like a Deere."
A few brands use their taglines as the thread that links together TV spots, radio ads, and in-store promotions. For example, MINI's "Born To Drive" connected with their "Born To Drive Sales Event" that offered limited-time financial incentives to get customers into MINIs.
Quite a few brands do not use taglines at all. Almost all fashion and fragrance brands do not use slogans. Gucci, Louis Vuitton, Prada, and Zara do use simple phrases in the advertisements, but they speak to the theme of the ad and not the brand. They keep it simple and classy and let the feeling of the creative become the brand.
Brands with iconic taglines are no longer using them, instead opting just to have their logo and a trademark piece of audio. McDonald's is no longer using the iconic "I'm Loving It." I couldn't believe it.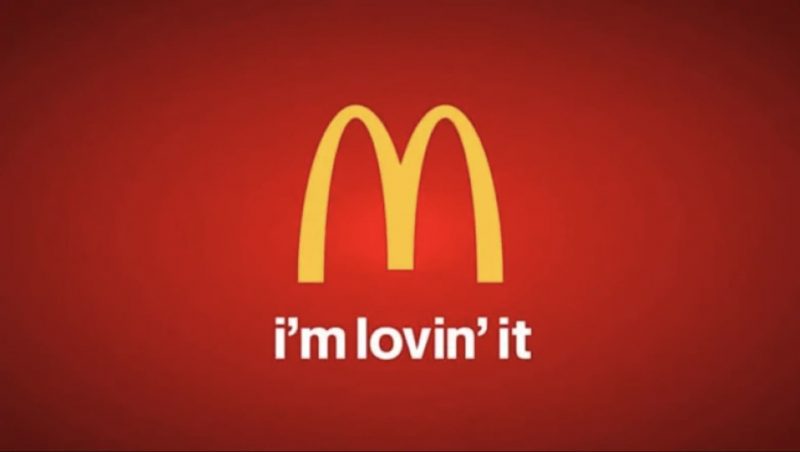 ---
PROMOTION
---
Takeaways
Here are some things I learned by doing all this research and looking at over 350 TV spots.
Inconsistency
Taglines are not as consistent as you imagine.
We think of taglines as phrases that are paired with the brand for decades. But many slogans are campaign-specific rather than brand-specific.
Most brands at this scale do not advertise consistently over time. Instead, they make pushes for a couple of months at a time. The push is a big, multi-faceted media, but that serves to promote a new product, a promotional offer, or their prime season.
The big brands use their taglines to link together all the ads in their marketing push. When the campaign is over, the slogan is dropped.
Taglines can also change as brands change their agency of record. The executives of marketing firms can be egotistical and do not want to work with the creative provided by the previous agency even if consistency is in the best interest of the brand.
Too Cool For Taglines
The brands that are "cool" opt-out of using taglines.
I don't know if taglines are considered passee or unfashionable, but many of the brands that enjoy a high-end image do not use slogans.
Brands like Starbucks, Gucci, Porsche, Hermes Paris, Louis Vuitton, Ferrari, Prada, H&M, and Zara do not use taglines.
The lack of a tagline is a sign that a brand is attempting to speak to a high-end customer. Maybe the brand managers worry that it cheapens the brand.
It seems like a mistake to me. A tagline is a useful tool, and to not use it to be a little more "cool" is a lousy reason to make your promotion less effective.
---
PROMOTION
---
Conclusion
How should my smaller brand use a tagline?
Should a smaller brand use a tagline? It is a reasonable question. Big brands like the ones we have been discussing can spend hundreds of millions of dollars to establish their slogans. A small or medium-sized brand is not going to be able to do that.
While you won't be able to have people from coast to coast singing your brand's tagline in the shower, you can use it consistently enough to have it be a powerful force in your industry.
Don't let scale stop you from using a tagline. A slogan that reappears in your email marketing, mailers, brochures, and even on the wall of your location can have the same effect for your niche market as a tagline from a big brand.
Even if you are not advertising, a tagline can be a useful way to tie up all of your marketing with a theme. Linking the way you talk about your product to a motto will force you to carry an idea through and make your brand message far more focused.
A brand with a focused message will beat out a brand with scattered messaging every time.
---
Thank you to iSpot.tv; your service made the research for this article far easier.